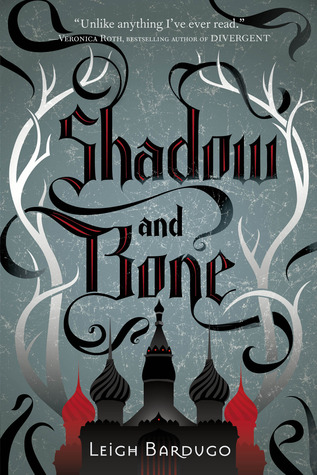 About the book -

The Shadow Fold, a swathe of impenetrable darkness, crawling with monsters that feast on human flesh, is slowly destroying the once-great nation of Ravka.
Alina, a pale, lonely orphan, discovers a unique power that thrusts her into the lavish world of the kingdom's magical elite—the Grisha. Could she be the key to unravelling the dark fabric of the Shadow Fold and setting Ravka free?
The Darkling, a creature of seductive charm and terrifying power, leader of the Grisha. If Alina is to fulfill her destiny, she must discover how to unlock her gift and face up to her dangerous attraction to him.
But what of Mal, Alina's childhood best friend? As Alina contemplates her dazzling new future, why can't she ever quite forget him?
Glorious. Epic. Irresistible. Romance.
A Short and Sweet Review - Let me start by saying this is one of the increasingly rare books that completely deserves the hype, it's highly original and completely interesting. Everything about it is intriguing, it grabs your attention from the beginning and never releases you!
It's the perfect blend of magic, mystery and darkness. The Grisha is a unique and intriguing take on magic, I loved everything about them. And
I loved that not only is Alina taught how to use her power
but also combat, I love books that mix the two.
While there is a love triangle of sorts it doesn't overtake the whole story, it's there but more in the background than anything.
The pacing is perfect, not too rushed but not dragging on slowly to where you find yourself bored throughout the while middle of the book. It's just awesome, okay? Okay?
Alina Starkov - Main character. In ways she is just like every other main character, thinks she's ugly? Check. In love with best friend and believes he will never love her? Check. Has some mysterious all important power that no one else has? Check. And still she's not all cliche. She's fairly badass once she becomes determined, and her relationship with the Darkling was highly original and one of my favorite parts. I liked how much you saw her grow and mature away from the scared meek girl who was lost without her best friend/love interest, I loved the character development.
The Darkling - Mysterious? Check. Beautiful? Check. In love with the main character but possibly completely evil? Check. He's everything you could want in a villain/love interest and more.
Mal - Best friends with main character forever? Check. Meanwhile, he's the guy ever girl wants...and gets? Check. Unaware that he is in love with main character until it's too late? Check. He's everything that annoys me about a love interest...at first. But he gets better about halfway through the book and I, personally, wound up loving him.
Overall it's a real good book and you should check it out if...
Your a Fansof Throne Of Glass by Sarah J. Mass and Seven Realms by Cinda Williams Chima
Song Of The Moment - Invisible by Hunter Hayes