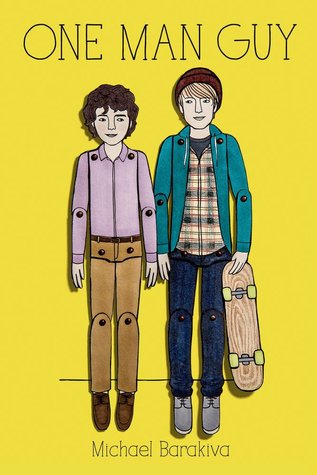 Fangirling Over -
One Man Guy
By Michael Barakiva
Release Date: May 27th
How I Got It:
Won an ARC from
FierceReads
Goodreads Link
Description:
Funny and heartfelt, One Man Guy brings to mind the raucous family humor and gentle romance of My Big Fat Greek Wedding, as told with David Sedaris–style wit
Alek Khederian should have guessed something was wrong when his parents took him to a restaurant. Everyone knows that Armenians never eat out. Between bouts of interrogating the waitress and criticizing the menu, Alek's parents announce that he'll be attending summer school in order to bring up his grades. Alek is sure this experience will be the perfect hellish end to his hellish freshman year of high school. He never could've predicted that he'd meet someone like Ethan.
Ethan is everything Alek wishes he were: confident, free-spirited, and irreverent. He can't believe a guy this cool wants to be his friend. And before long, it seems like Ethan wants to be more than friends. Alek has never thought about having a boyfriend—he's barely ever had a girlfriend—but maybe it's time to think again.
My Rating: All The Stars + 5

A Different Kind Of Review:
How Do I Love Thee, Let Me Count The Ways...
-I love thee to the ends of the earth(or the book)
-I love thee through all the pages, the ups and downs, the funny and the serious
-I love thee for Becky who is just the bomb
(she's badass, funny and all the other words that mean awesome, she is the best best friend character)
-I love thee for your swoon worthy romance and kickass hilarious characters
-I love thee for every word on every page
-I love thee for giving me a story I will never stop loving and that will stay with me forever
-I love thee for the Green lantern t-shirt
- In the end I will always love thee
Love Letters To The Characters -
#1 - Dearest Becky, you are awesome. You are badass and utterly hilarious. You stand out in a sea of characters, not only in your book but in the genre as a whole, as one of the best, will you be my best friend?
P.S. I might even kiss back.
#2 - Dear Alek and Ethan, how I love you so, I loved you as I loved Ari and Dante, totally and completely. You are awesome in that you are perfect for each other, you are equal parts funny and sweet, and you are wholly swoon worthy. You stay true to yourselves and stand up for what you believe in and for that above all I love you.
p.s. Alek when you went shopping and found the old Green Lantern shirt and said the line, that's the moment I knew there was no going back.
In conclusion
- This book gives you all the happy lighthearted feelings while still dealing with some tougher issues like trying to remain true to yourself even as you're trying to figure out who you are, of heritage and race and religion, and it does all of this so very well. It's also completely swoon worthy and laugh out loud hilarious, which is bad when it is 3am and you're trying not to wake everyone up and so you have to smother your giggles and more than once just set the whole book down until you can control yourself once more.
Do I Recommend This Book? Yes. Highly.
To Whom: Fans Of
Aristotle and Dante Discover The Secrets Of The Universe
and all the people.
Would I Read More From This Author? Definitely.
Did I Make A Playlist Inspired By This Book? Yes.
I picked fun songs because this is a fun book, okay?
Including two songs I use all the time...don't judge me!
Thanks for reading my overly dramatic and utterly ridiculous review! =)
Don't Forget To Enter This Month's Fangirls Spotlight Giveaway!
a Rafflecopter giveaway