Song Of The Moment- Dance Dance by Fall Out Boy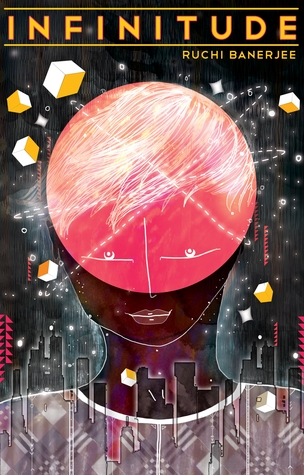 Infinitude
by Ruchi Banerjee
Release date: May 5th
Publisher: Hachette
Purchase:
Amazon
/
B&N
On Goodreads
BOOK DESCRIPTION:
The year is 2173. Humans are a near-extinct group herded together in protected sectors. Mira, a regular, self-absorbed, 16-year-old pimple buster, resident of Sector 51, has no clue how drastically her life is about to change when she accompanies her mother on a research project to a distant tropical jungle. There, Mira discovers a tall, super-intelligent and rather good-looking boy called Neel, who introduces her to a whole new world of mysterious possibilities. But before she can even begin to understand her feelings for him, things take a nightmarish turn…Carnivorous mutants are on the prowl. A deadly new breed of the forest, they have Mira trapped. Rescued by unlikely saviors, she finally learns the ugly truth of her world. Now, Mira must fight not only for her own life but also for humanity itself as she is pitted against a far stronger, smarter and more evolved enemy. Her only hope lies in Neel. But will he be able to overcome the overwhelming odds against them? Will this be the end of the human race? With electrifying action and forbidden love, Infinitude is the riveting story of two young lives caught in a deadly clash of civilizations.
I received this book from the author in exchange for an honest review
My Rating: 3.5 stars
Review: What to say?
I literally don't know. So, I'm one of those reviewers who writes a review as soon as I finish a book, sometimes within minutes of finishing a book, and I'm usually thinking of everything I want to say in the review while reading so that I don't forget things. So as I read I rate a book, it goes up and it goes down and my review goes up and it goes down and with this book the ending threw all of that away because I just can not comprehend it. Let's jump in shall we?
I wasn't sure what to except going into this book, I thought maybe aliens or some kind of experiment surrounding Neel and obviously I thought there would be some nice creepy beastly animals and I did get that in a way. I don't want to give away the whole plot but I will say it's definitely something I haven't seen before and once I got to the part where things about Neel and the sectors were explained I got really into this book and it was really unique and enjoyable. But the beginning was kinda slow, though still enjoyable and had me smiling quiet often, but the end, the epilogue as many epilogues do, kinda ruined it for me. I just don't understand the point of it, at first with the last chapter before the epilogue I thought maybe there would be a sequel to end things but now I'm thinking not because there would be no point after that and like I was really loving the book and then that. I get it from one perspective and I think it was kinda brave of the author to end it like that and I still really enjoyed the book and would recommend it but from a readers stand point as someone who just spent the last four hours or so very invested in this plot and these characters it irritated and disappointed me, but it's definitely an unique ending and if I'm honest for what the story was it was probably a realistic ending one that most writers would be to afraid to try.
Likes -
-The plot - Seriously I can not tell you how excited and happy I was when I realized what this was actually about, what Neel was, because I haven't read anything like it before and it was just such an awesome concept.
-Mita + Jaggi + other secondary characters - I am a sucker for secondary characters and these did not disappoint. I love Mita the most I think though mainly because I wanted to see romance between Mira and Jaggi so that not happening I thought kinda made his character pointless even though I still liked him.
-Mira - She's not my favorite character, I admit, but once she finally figured out what was going on I enjoyed her as a character. I did not like her relationship with Neel.
-The writing it was very descriptive which I loved and the book was just all around well written.
Dislikes -
Neel - I didn't like him at all. He's kinda a creepy stalker for one, and I'm not into the brooding bad boy type thing, he's always watching you with smoldering eyes that set you on fire? No thanks. And then you know we learn the truth of what he is. Also Insta love, I have to point out like i have a few times that I think Insta love is mainly considered a bad thing when you don't like the characters involved in it so I didn't count that against this book when rating it.
The ENDING - Just another reason to hate epilogues, I just wish the last chapter before the epilogue didn't end on a cliff hanger because then I could pretend said epilogue never existed.
Overall - It is a really enjoyable unique well written book with a bad ending, that I would recommend even having said that.
Would I Recommend This? Yes
Who To? People looking for a fast interesting unique read and honestly fans of
Virals by Kathy Reichs
Will I read more from this author(or series)? Probably.
AUTHOR LINKS:
Blog
–
Facebook
–
Twitter
-
Goodreads
***EXCERPT***
"My body stilled as my eyes tagged the dark silhouette covering the doorway. The stranger was a few feet taller than me. His shaved head sloping into distinct ear lobes, a thick neck and broad masculine shoulders. I tilted my head up, to catch a glimpse of his face but it was completely shrouded in the dark. Maybe he realized my predicament because right then he stepped closer. I instinctively stepped back. My heart skipped a beat as I stared at the face now swathed in moonlight. Massive brow, sparse eyebrows, deep-seated eyes, a broken aquiline nose and a ruddy jaw. Everything was a bit disproportionate. It was not a handsome or even a cute face. It was...menacing. A face you would run away from in a dark alley. But then, there was something there that would make you look back. Just once. Just to be sure."
GIVEAWAY!!!
a Rafflecopter giveaway
Don't forget to enter this month's
Fangirls Spotlight
giveaway! -
a Rafflecopter giveaway
Check Out
My Goodreads Profile
for more book updates and feel free to add me!
Follow my blog with Bloglovin