Song Of The Moment- Ash and Ember by Augustana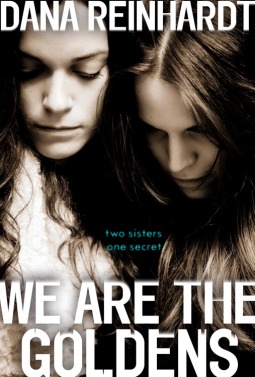 We Are The Goldens
by Dana Reinhardt
Release date: May 27th 2014
How I got it - Review copy from Netgalley
Genre: YA Contemporary
Goodreads Link
Description -
Nell knows a secret about her perfect, beautiful sister Layla. If she tells, it could blow their world apart.
When Nell and Layla were little, Nell used to call them Nellaya. Because to Nell, there was no difference between where she started and her adored big sister ended. They're a unit; divorce made them rely on each other early on, so when one pulls away, what is the other to do? But now, Nell's a freshman in high school and Layla is changing, secretive. And then Nell discovers why. Layla is involved with one of their teachers. And even though Nell tries to support Layla, to understand that she's happy and in love, Nell struggles with her true feelings: it's wrong, and she must do something about it.
I received this book from the publisher through Netgalley in exchange for an honest review
My Rating: 4 stars

Review:
This is a really good book about family and sibling relationships and I loved that it stayed about that, there was romance of course but it was always second to our main character, Nell's, relationship with her sister Layla. Nell was born seventeen months after Layla, they've been best friends, their lives interconnected, forever. Through divorce and school and everything else, they've been each others constants, at least that's what Nell has always believed. She never imagines that when she starts High School things could change so much, but Layla grows distant and stops talking to her, starts lying, and when Nell finds out why she has no idea what to do. All she wants is to be in her sisters life, to once more be the person she can tell everything to, but how far is she willing to let Layla fall before she tries to save her?
Likes -
- Nell - While she made some questionable decisions regarding boys and her sister both, I still really enjoyed her character. One reason is that I feel like, especially if you have older siblings that you're close to, she's really easy to relate too. The book is equal parts her trying to figure out her own life without only following behind Layla and her trying to make sure that Layla stays apart of her life. Ever since she was old enough to talk she's known that her and Layla's lives are interconnected and she just wants Layla to realize and essentially fight for that. I really enjoyed her character and I loved how the book was told as if Nell was writing the story to Layla.
- Felix - Felix was an awesome character. He's Nells' best friend and he's going through his own hard time but I just loved their relationship, it never completely morphed into more than friends and just the dialogue between them was hilarious and awesome.
- The sisterly relationship - Again I loved that at it"s heart this book was all about Nell and Layla.
Dislikes -
-The Creeds? I guess it was supposed to be Nell's way of realizing how bad what Layla's doing is and realize she needs to help her, I guess it's her way of coping but it was....weird. She's imagining dead people and apparently she didn't even really know them very well in real life, in the beginning I thought it would be revealed that they had played a bigger part in Nells life but no. I guess it was supposed to show how far one sibling would go for another and Nell connecting that to her own relationship with Layla but still it was weird.
- Layla - She's selfish and naive. She's supposed to be but for half the book instead of feeling sorry for her I was angry with her. I didn't hate her character because really it was all she was supposed to be and there were some parts, like the Christmas vacation part, that I really liked her and just felt bad for her.Basically I had mixed feelings for her character.
- The ending - I just felt like it didn't end. I wanted more in a bad way, the whole book is leading up to this point and you don't even get to see it. I mean I get that the book was about Nell getting to this point but I still wanted one or two more chapters.
Overall - A really good, slightly heartbreaking, book about the bond between two sisters and it's definitely worth the read.
Would I Recommend This? Yes.
Who To? People who think it sounds good? =)
Will I read more from this author(or series)? Probably.
Don't forget to enter this month's
Fangirls Spotlight
giveaway! -
a Rafflecopter giveaway
Check Out
My Goodreads Profile
for more book updates and feel free to add me!
Follow my blog with Bloglovin