Song Of The Moment-Photograph by Ed Sheeran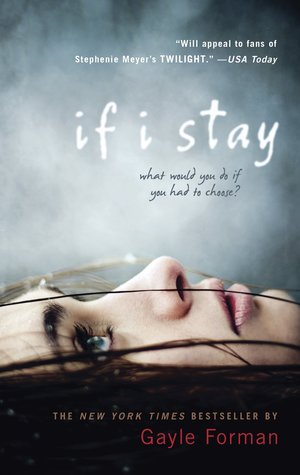 If I Stay
by
Gayle Forman
Release date: Long long ago
Genre:YA contemporary
Goodreads Link
Description -
Just listen, Adam says with a voice that sounds like shrapnel.

I open my eyes wide now.
I sit up as much as I can.
And I listen.

Stay, he says.
Choices. Seventeen-year-old Mia is faced with some tough ones: Stay true to her first love—music—even if it means losing her boyfriend and leaving her family and friends behind?
Then one February morning Mia goes for a drive with her family, and in an instant, everything changes. Suddenly, all the choices are gone, except one. And it's the only one that matters.
If I Stay
is a heartachingly beautiful book about the power of love, the true meaning of family, and the choices we all make
My Rating: 4 stars- I really liked it

Review:
I am sure you've all heard of, if not read, this book. I'm sure you've heard how it's beautifully written and heartbreaking and it's true this book is undoubtedly those things. But I'm conflicted because while it is those things it didn't invoke those feelings quite as much as I wanted it to. The premise alone is heartbreaking and I love Gayle Formans writing and I did love the book just not as much as I wanted to. The thing is going in I knew how it would end, I knew what Mia would choose, I mean there's a sequel need I say more, and I think that really toke away from the book for me. It's not the authors fault, it's not a flaw in the story and I think if I had read it when it first came out it would have been better for me, would have invoked a stronger feeling. Still I did enjoy and love it, it was still heart breaking to read as Mia tries to decide whether she wants to stay in a world where her mom and dad and baby brother no longer exist or whether she wants to follow them. I loved the flash backs they were what made me feel the most and I loved her parents and Kim and her grandparents and I even loved Mia a lot more than I thought I would. It was definitely heart wrenching to see her try to make this impossible decision. I however didn't really like Adam, I get the feeling you get to know him better in the sequel? But in this one I recognized the place he had in Mias life and heart and the part he played in her decision I just didn't love him. Though that last scene with him was probably my favorite and I did love the parts where he was trying to get in to see Mia, I can't really explain why I didn't like him, okay?
To summon things up real fast, I really liked the book I just felt like I was excepting more from it than I got. I still love Gayle Formans writing and I appreciated the premise of this book, I love it actually, I just think going in knowing there was a sequel and how this one would end really took away a lot for me.
Would I Recommend This? Of course.
Who To? All the people?
Will I read more from this author(or series)? Is that even a question.
Don't forget to enter this month's
Fangirls Spotlight
giveaway! -
a Rafflecopter giveaway
Check Out
My Goodreads Profile
for more book updates and feel free to add me!
Follow my blog with Bloglovin