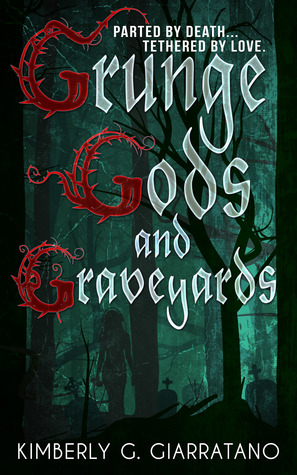 Grunge Gods and Graveyards
by Kimberly G. Giarratano
Release date: May 31st
Publisher: Red Adept Publishing
On Goodreads
BOOK DESCRIPTION:
Parted by death. Tethered by love.
Lainey Bloom's high school senior year is a complete disaster. The popular clique, led by mean girl Wynter Woods, bullies her constantly. The principal threatens not to let her graduate with the class of 1997 unless she completes a major research project. And everyone blames her for the death of Wynter's boyfriend, Danny Obregon.
Danny, a gorgeous musician, stole Lainey's heart when he stole a kiss at a concert. But a week later, he was run down on a dangerous stretch of road. When he dies in her arms, she fears she'll never know if he really would have broken up with Wynter to be with her.
Then his ghost shows up, begging her to solve his murder. Horrified by the dismal fate that awaits him if he never crosses over, Lainey seeks the dark truth amidst small town secrets, family strife, and divided loyalties. But every step she takes toward discovering what really happened the night Danny died pulls her further away from the beautiful boy she can never touch again.
My Rating: 5 stars All The Stars!!!!!
Review:
I really really enjoyed this book, I mean I just I
loved
it. The thing is, for me, the more I
love
a book the more nonsense I write in my review, so just a warning. It pretty much goes like, I
loved
everything, I just say that word,
love
, over and over again. It's like I just want to run up to random strangers thrust the book in there faces and yell "I
love
this book!" as loud as I can. So that's all you need to know right? Right?
Let's start with the setting, not just the town, but the year, 1996, and this is mainly because of grunge music, hence the Grunge Gods part of the title. I

loved

all the music references and how music played into this book, it's not what makes this book so awesome but

it's like the icing on the cake of awesomeness

.

I just

loved

it so much. I am a sucker for any kind of musical reference in books, whether the main character just listens to music or sings or whatever, and I've never seen anything that focuses on Grunge music and I just

loved

it so much.(Should we count how many times I say the word

love

?)
Then you have the graveyards, because if you're going to have ghosts you have to have graveyards. Let's actually talk ghosts though, okay? I
loved
(dammit) the mystery aspect to this book, of solving Danny's murder and everything, it really did keep me guessing until the very end. I really liked
(ha)
the way ghosts were portrayed in this book, I'm a huge fan of ghost books whether they're scary or bitter sweet, and I really liked the version the author chose to use, they weren't crazy or mean they were just stuck. It was bitter sweet and heartbreaking to see Danny's ghost and all the unsaid things between Lainey and him, it just gave me all the feels, like I wanted them to be together and then I wanted her to move on and then it's just so sad and all the feels...you know?
Which brings me to the next thing I
loved
, which was Lainey and her journey to acceptance, my heart broke a little bit each time she would remember that though she could see Danny he really was gone and...the feels, okay? The feels. I also really enjoyed Lainey's relationship with her sister Liz, and her best friend Wilder(I really really enjoyed Wilders character). I thought all the characters were done really well, they never really annoyed me which says a lot, really it does, and they were believable which is always good. I wanted more Nutley though, from like the first sentence he was mentioned in I knew I was going to
love
him and I did, but we didn't really get to see much of him which was a little disappointing!
Some of my favorite parts were all the scenes from the short week or so that Danny and Lainey had together and then the memories from before that when they were sorta kinda friends, I
loved
that we got to see so much of their relationship without it overwhelming the rest of the story.
So basically I
loved
this book, there were a few little things that I didn't like, like I wanted more Nutely and more about the Lady In Blue but...I still
loved
this book.
Also I don't know if this is going to be a series or what, but I really really want it to be one!
So actually I asked the author on Twitter if there was going to be a sequel and this is what she said -
So basically...read the book! read it read it read it! I need a sequel! So read the book and then tell every stranger you come across to read it and then post about it non stop making sure to mention that you want a sequel...okay? Okay.
Would I Recommend This? Yes. Highly.
Who To? ALL THE PEOPLE!!!
Will I read more from this author(or series)? Yes!
Make Sure To Check Back Here On The 21st For A Guest Post From Kimberly G. Giarrantano!
Purchase Links!
Thanks to Kimberly and Red Adept Publishing for giving me the chance to read this awesome book and be a part of this tour!
Blog Tour Hosted by Red Adept Publishing
Don't forget to check out the other stops on this tour!
Follow my blog with Bloglovin