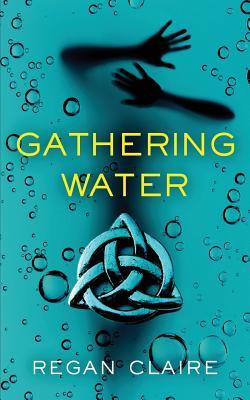 Gathering Water
by Regan Claire
Release date: Jan 26th
Purchase:
Amazon
/
B&N
On Goodreads
BOOK DESCRIPTION:
Della Doe Deare isn't like most people. Most people begin their life on the day they enter the world; the day they're born. Della, well, hers began on the day she turned eighteen. After all, it was the day she first heard her real name, and that of her mother. With nothing but a couple of duffel bags and a folder full of questions, she travels to coastal North Carolina to claim a house that she inherited from a grandmother she never knew.
She has two goals: discover why her mother ran away from home all those years ago, and avoid the family that had left her to rot in an inept foster care system. Hard to do when the family she's been trying to avoid is dragging her into an unimaginable world... a world on the brink of war, and both sides want her dead.
All Della ever wanted was to know who she was, but her journey to self-discovery might just lead to destruction.
My Rating: 4 stars
Review:
This book follows one Della Doe Deare(say that ten times fast, I dare you), as she discovers who she is and of course that she has magical powers that have to do with harnessing the elements and potential war with alien(i think?) races.
Initial thoughts -
Interesting and unique, I loved pretty much every minute of this book. A couple times I thought it was a little slow and like the "mystery" of who the main characters dad is was a little too obvious, I wanted to scream at Della "how can you not see it!?", but all around it was a really good book. I loved that it was way more focused on family relationships than romantic ones and I think Cash(her cousin) was my favorite character.
Likes
-
Cash - He was my favorite character, he was funny and sweet and I loved that the kind of main relationship was a friendship between cousins, I loved that they became best friends and all the parts that he was in were my favorites.
The powers.
..I thought the magical powers in this book were really unique and I loved learning about it throughout the book, I've never really read anything like this and I was pleasantly surprised by it. Though I didn't understand it and the other races(aliens?) as well as I would have liked. I wanted a little more information.
Della
she's not a stupid main character, she doesn't really make a lot of bad decisions which is probably one of my biggest pet peeves in YA, but also I didn't completely love her. I loved her relationship with Cash, I loved learning about her powers with her, but I didn't love her. I didn't hate her, I didn't dislike her but at the same time I didn't feel a whole lot for her besides her relationship with Cash.
Dislikes -
-This isn't exactly a dislike but throughout the book one of the mysteries is who Della's dad is and personally I thought it was pretty easy to guess, what made me mad and frustrated is I knew who it was and then that was the cliff hanger!? No. I wanted to see what happens next and then you go do a cliff hanger! I guess it was a surprise because it was so obvious that it never occurred to me it would be the cliffhanger.
- It was a little slow sometimes in the middle, I never lost interest but I did get bored once or twice.
-I kinda thought there would be more about her mom, I wanted there to be more about her mom, I assume there will be more about her in sequel?
-I also wanted to know a little more about these Gathering powers and where the come from and everything but I am assuming this will be explained more in the next book(s).
Despite the few problems I had with this book I really did enjoy reading it, there wasn't one time I considered not finishing it and even the few times I got bored it quickly grabbed my attention once more. Overall it's a really strong debut(I think?) with a really interesting and unique premise.
Would I Recommend This? Yes
Who To? All the people...looking for a interesting magical book...
Will I read more from this author(or series)? Yes
Don't even ask me whats going on with this playlist...I try and pick a theme that matches the book I'm making a playlist for and this theme is...awesome songs?
Itching For Books
Don't forget to check out the other stops on this tour!
Check Out
My Goodreads Profile
for more book updates and feel free to add me!
Follow my blog with Bloglovin