I finally read them. I read Shatter Me back in April of last year and have finally read these two. Considering I read them in a day and half and literally only took the time to update my Goodreads status and then walk to my bookshelf to grab Ignite Me after finishing Unravel Me and I didn't take the time to review Unravel Me first I am putting them together. I will do two separate reviews on this post and then an overall short paragraph on the whole trilogy!
See My Review Of Shatter Me Here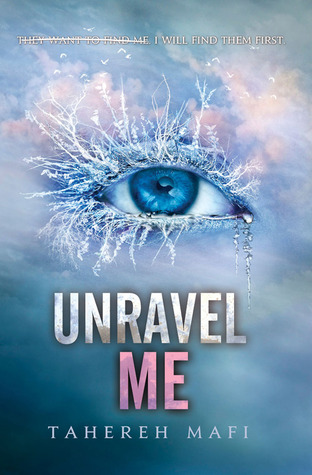 Unravel Me
by
Tahereh Mafi
Release date: Feb 4th
How I got it - bought it
Genre: Dystopian
Goodreads Link
Description -
tick
tick
tick
tick
tick
it's almost
time for war.
Juliette has escaped to Omega Point. It is a place for people like her—people with gifts—and it is also the headquarters of the rebel resistance.
She's finally free from The Reestablishment, free from their plan to use her as a weapon, and free to love Adam. But Juliette will never be free from her lethal touch.
Or from Warner, who wants Juliette more than she ever thought possible.
In this exhilarating sequel to
Shatter Me
, Juliette has to make life-changing decisions between what she wants and what she thinks is right. Decisions that might involve choosing between her heart—and Adam's life.
My Rating: 5 stars

Review:
Where to start? I found this book to be awesome. I enjoyed basically every minute of it. Juliette annoyed me with the crying all the time and I learned a whole new level of hate for Adam and my love for Warner grew and basically all the feels and I loved it!
Likes -
Kenji - I loved Kenji so much he is my favorite character. I loved his friendship with Juliette and I just loved him...okay? Also he doesn't put up with Juliette's shit which is just awesome.
Juliette - I loved Juliette's growth in this book, she finally started to realize how strong she is and she started to learn how to fight back, she discovered that she could and would fight back. I also loved her with Kenji and her with Warner and I hated the parts with her and Adam. But basically I love her. She's so awesomely crazy and badass.
Warner - We get to see more of Warner in this book, a softer side, a side that shows just how much he loves Juliette and I loved it.
The Plot and things - I liked how fast paced this book was and I loved the development of their powers and Juliette learning to control her power, somewhat, and slowly learning how to be part of a team. And all the things.
Dislikes -
Juliette - She was kinda self absorbed and whiny at first but she really grew on me.
Adam - Is selfish and whiny and so very annoying.
Not enough action - This is one thing that is consistent in all three books, I just feel like there could have been more action. So much time is focused on character development and Juliette trying to control her powers and everything and it's important stuff and it's still a really good book but also I feel like there could have been more action. But still even with all the character development that can sometimes be boring this book was never dull.
Overall - I loved it. I loved Kenji and Juliette and Warner and all the things. Also I'm having major issues reviewing this book besides saying how much I loved everything.
Spoiler Alert!!!

Major spoilers for all three books ahead!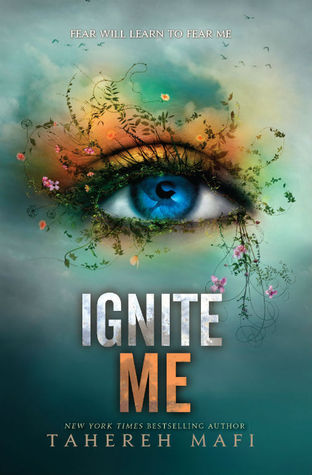 Ignite Me
by Tahereh Mafi
Release date: Feb 4th
Genre: Dystopain
Description -
The heart-stopping conclusion to the New York Times bestselling Shatter Me series, which Ransom Riggs, bestselling author of Miss Peregrine's Home for Peculiar Children, called "a thrilling, high-stakes saga of self-discovery and forbidden love."
With Omega Point destroyed, Juliette doesn't know if the rebels, her friends, or even Adam are alive. But that won't keep her from trying to take down The Reestablishment once and for all. Now she must rely on Warner, the handsome commander of Sector 45. The one person she never thought she could trust. The same person who saved her life. He promises to help Juliette master her powers and save their dying world . . . but that's not all he wants with her.
The Shatter Me series is perfect for fans who crave action-packed young adult novels with tantalizing romance like Divergent by Veronica Roth, The Hunger Games by Suzanne Collins, and Legend by Marie Lu. Tahereh Mafi has created a captivating and original story that combines the best of dystopian and paranormal, and was praised by Publishers Weekly as "a gripping read from an author who's not afraid to take risks." Now this final book brings the series to a shocking and satisfying end.
My Rating: Infinite Stars!

Review:
What to say? I'm in love with this series...
Likes -
-Juliette - I loved Juliette in this book. I loved her because she really came into her own in this one, she takes over and she leads the resistance and I just loved it. I loved seeing her stand up to Adam and fall more for Warner and everything else. I loved how so much of this book is about Juliette figuring herself out and I just loved the self discovery aspect to both this book and Unravel Me.
-Kenji - I loved him even more in this book. I swear I think I book marked every single page where Kenji and Juliette are together, I just really love and enjoyed their friendship.
-Everything else - Seriously I just loved this book. It was definitely one of the best endings to a series/trilogy, I don't think I was ever really disappointed in it. It gave me all the feels and it was just really really good.
Dislikes -
-Adam - I admit I kinda loved to hate him but I hated him so very much. He is such a jerk and I wanted to strangle him but I think that's part of the genius in these books, it starts out where Adam is the good guy and Warner the bad and then you find out it's not that easy and that I really really loved, I think it might have been my favorite thing about this trilogy.
-Action - Yet again the action is short and sweet, the last forty pages, that's the whole war...and that was definitely a little disappointing but not nearly enough to make me dislike the book.
Overall -
It was funny and tense and I really enjoyed pretty much every minute of it but I wanted more action. The "war" began and ended in the last forty pages and while I loved basically everything before that I wanted just a little more action, it's not so much that it was too easy but it kinda was and it was just over too fast. Either way I still loved this book as is evident by how many times I have used the word love in this review. Also I think Kenji was my favorite part of this book...because he's Kenji.
Thoughts
On The Series -
Honestly it has become one of my favorite trilogies and I just love it, okay? The romance aspect in the first book seems to be just like every other YA book but over the course of the second and third it changes and I loved the way it went, I've never really loved the romance in a book quite as much as I did in this series. The story and the plot is awesome the books are fast paced and easy and fun to read and I just really really enjoyed it. It's the most fun I've had with a book series in long time. I definitely think the first is the worst, not that it's horrible, but if you're conflicted on finishing the trilogy after only having read book 1 I am begging you for your own good, read book 2, just do it. Also the books are worth read just for Kenji, okay? He is the best.
Would I Recommend This? Yes
Who To? Anyone looking for a good dystopain read.
Will I read more from this author(or series)? YES!!
Don't forget to check out this months Fangirls Spotlight!
Check Out
My Goodreads Profile
for more book updates and feel free to add me!
Follow my blog with Bloglovin