Song Of The Moment- you know that song, the one you have stuck in your head?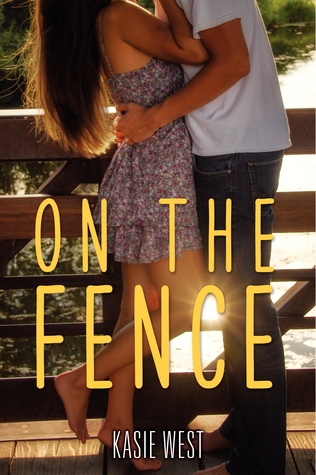 On The Fence
by
Kasie West
Release date: July 1st
Genre: YA Contemporary
Goodreads Link
Description -
She's a tomboy. He's the boy next door…
Charlie Reynolds can outrun, outscore, and outwit every boy she knows. But when it comes to being a girl, Charlie doesn't know the first thing about anything. So when she starts working at a chichi boutique to pay off a speeding ticket, she finds herself in a strange new world. To cope with the stress of her new reality, Charlie takes to spending nights chatting with her neighbor Braden through the fence between their yards. As she grows to depend on their nightly Fence Chats, she realizes she's got a bigger problem than speeding tickets-she's falling for Braden. She knows what it means to go for the win, but if spilling her secret means losing him for good, the stakes just got too high.
Fun, original, and endearing, On the Fence is a romantic comedy about finding yourself and finding love where you least expect.
My Rating: 5 stars!

Review:
I really really loved this book, I read it in just a few hours and I thoroughly enjoyed every minute of it(was there any doubt that I wouldn't?). I think, honestly, that I liked it just a little bit more than
The Distance Between Us
, this is mainly do to the fact that I just really connected and could relate so very well to Charlie. First of all Charlie is an awesome character she's funny and strong and I loved seeing her relationship with her brothers and then seeing her trying to fit in with more girly girls and then trying to figure out who she was, I loved her growth and journey throughout this book. I grew up homeschooled with two older brothers who are my best friends and I can completely relate to Charlie and I just really loved her character.
So beyond the whole Charlie trying to figure out who she is we have the fence chats with her neighbor, Braden, whose practically been another brother her whole life. I loved Braden and I loved the fence chats and I cringed in sympathy for these two characters more than a few times.
Then beyond that we have this sort of mystery surrounding Charlies mom who died when she was six. Charlie struggles with nightmares about the night she died and then she struggles with the fact that she didn't get to know her mom at all and that she can't remember anything about her and her family never talks about her and as the book goes on their is a sort of mystery surrounding what exactly happened the night her mom died. This part was heartbreaking, like once I figured it out even I didn't want Charlie to know because it would hurt her so much. We also have the more serious issues of Bradens dad who is a very angry person and I really loved these two more serious things kinda in the background but where you never forgot about them and I liked how it all ended.
A few other things I loved were all the scenes with Charlie and her brothers, they were so fun and I just loved everything about this book. Also "Carol" Charlies dads coworker, if you've read this you know what I mean, it made me cringe so bad in such a good way.
So yeah, I loved it! It's a fun cute contemporary with some more serious issues. Read it and make sure you have enough time to read the whole book without interruptions!
Also can I just say I don't think this cover gives this book justice!
Would I Recommend This? Yes
Who To? People who loved
The Distance Between Us
Will I read more from this author(or series)? No I don't think i will(she said sarcastically)
A Giveaway!?
I figure this is a good spot to announce that I will be meeting Kasie West at a signing in August!!! So it's her and three other authors(insert names here) and I want to do a giveaway but I'm low on funds so I need you guys to take this poll and vote for which two books you would want me to get signed to giveaway! I am also going to a Maggie Stefviater signing in about a week so feel free to vote for whether you would want a signed Shiver or a signed Raven Boys!
Don't forget check out this months
Fangirls Spotlight
!
Check Out
My Goodreads Profile
for more book updates and feel free to add me!
Follow my blog with Bloglovin