Song Of The Moment- Dance Dance by Fall Out Boy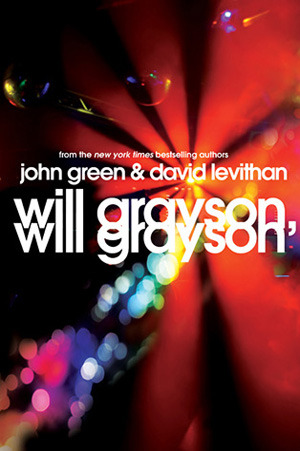 Will Grayson, Will Grayson
by
David Levithan & John Green
Release date: April 2010
Genre: YA Contemporary
Goodreads Link
Description -
One cold night, in a most unlikely corner of Chicago, two teens—both named Will Grayson—are about to cross paths. As their worlds collide and intertwine, the Will Graysons find their lives going in new and unexpected directions, building toward romantic turns-of-heart and the epic production of history's most fabulous high school musical.
Hilarious, poignant, and deeply insightful, John Green and David Levithan's collaborative novel is brimming with a double helping of the heart and humor that have won both of them legions of faithful fans.
My Rating: 4 stars

Review: Keeping It Short and Sweet since 1980 never.
Basically I loved this book. It's funny and for some reason I'm not sure I understand I want to call it adorable. This is the story of Tiny Cooper, Will Grayson #1's (aka John Greens Will Grayson) best friend and Will Grayson #2's(David Levithans) eventual love interest. The book is about two Will Graysons' who randomly meet and the way their lives change afterwards. It's about Tiny Dancer, Tiny Coopers life in the form of a musical. It's about love and depression and friendship and I could go on but basically it's just really fun. I don't know that everyone or anyone sees it this way but for me that's all it was.
It has these more serious moments and it has parts that are kinda unbelievable and at one point or another every character is unlikable and they all have flaws and some parts in this book are just plain annoying but overall it's just fun. I feel like this is not a book that takes itself seriously which I love. I don't imagine it's one of those books that can change your life or the way you see things it's just a book that is extremely fun to read.(Jeez why don't I say fun one more time?) Fun.
I'm not gonna say it had the best plot or the best characters or the best hidden message or that it was even the funniest book I've ever read, I'm just saying I really enjoyed reading it and that's enough for me. It didn't give me all the feels but also it didn't annoy me to no end or make me want to smash my head against the wall. It's not a book that I will never forget but it is a book that I will read over and over again and that's really all you can ask a book to be isn't it? Something you want to read again and again just because it's fun?
Okay that's the end of this increasingly weird/bad review!
Would I Recommend This? Yes
Who To? People who just want a good book that can make them laugh and that they don't have to take too seriously.
Will I read more from this author(or series)? Is that even a question?
The Story Behind Why I Finally Read This Book and Why I Have Not Honored My Contemporary Break -
Basically I have had this book for awhile now but have never picked it up to read it and about a week ago I decided to take a break from Contemporary because it's like all I have been reading this year but alas it was not meant to be. You see I also finally read Unravel Me and Ignite Me and caught a sever case of the reading slumps and so in a moment of weakness i picked up a contemporary and I am not ashamed that I loved every minute of it!
Don't forget to check out this month's
Fangirls Spotlight
!
Check Out
My Goodreads Profile
for more book updates and feel free to add me!
Follow my blog with Bloglovin