Song Of The Moment- This Isn't The End by Owl City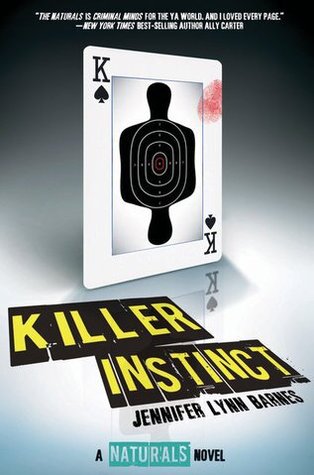 Killer Instinct
by
Jennifer Lynn Barnes
Release date: Nov 4th 2014
Series: The Naturals #2
How I got it - won from a giveaway!
Genre: YA Mystery/Suspense
Goodreads Link
Description -
Seventeen-year-old Cassie Hobbes has a gift for profiling people. Her talent has landed her a spot in an elite FBI program for teens with innate crime-solving abilities, and into some harrowing situations. After barely escaping a confrontation with an unbalanced killer obsessed with her mother's murder, Cassie hopes she and the rest of the team can stick to solving cold cases from a distance.
But when victims of a brutal new serial killer start turning up, the Naturals are pulled into an active case that strikes too close to home: the killer is a perfect copycat of Dean's incarcerated father—a man he'd do anything to forget. Forced deeper into a murderer's psyche than ever before, will the Naturals be able to outsmart the enigmatic killer's brutal mind games before this copycat twists them into his web for good?
With her trademark wit, brilliant plotting, and twists that no one will see coming, Jennifer Lynn Barnes will keep readers on the edge of their seats (and looking over their shoulders) as they race through the pages of this thrilling novel.
My Rating: 4 stars

Review:
Don't ask me why but for whatever reason I had a hard time reviewing this book. I just kept putting it off and now it's been 2(3?) weeks since I read it when usually I review books within a day. So I apologize if I forget to mention any big details.
This book starts a few months(I think?) after the end of book 1, Cassie and the others are still dealing with the fall out of the killer from book 1 and we have a new mentor of sorts in Agent Sterling, also of course there's a new killer, the twist? He's copying Deans dad.
Let's Talk -
Characters -
Oh man this book has so much character development. It still left me wanting more when it comes to Lia and Dean but we did get to connect and understand both them and Micheal and Sloane more than in book one. I seriously loved Sloane so much more in this book, it's not that she changes she's still reserved and mainly speaks about weird facts but we get to know her better I feel and she was just brilliant and I loved her. I even started to love Lia.
Agent Sterling is new in this book taking over for the last profiler to work with Briggs(the FBI agent in charge) and I really enjoyed her character. The mystery surrounding her and Deans relationship and how they knew each other was really interesting and I just thought she was a really solid character.
Love Triangles -
I mentioned in my review of book one that I actually loved both the sorta love interests and I loved that the love triangle wasn't what the whole book was focused on and that Cassie wasn't just jerking these boys around, that was still true up to a point in this book but...I really started to hate Micheal. He was supposedly being all understanding and stepping back for her to figure out her feelings and I thought he was full of crap and he's by far my least favorite character. I still love Dean, I still love the way the author weaves the romance into the background of these books but at the same time I still don't know Dean or Micheal for that matter and I want to know them better, I want Cassie to know them better.
Plot/Mystery -
The plot for this was, of course, that of a Killer on the loose that eventually, of course, Cassie and the Naturals all get caught up in, the difference being this time it's a killer who is mimicking Deans dad. I loved the plot of this one a little more than that of the first book it's like every time you have it figured out the author throws in another curve ball. I really really liked that. Of course you also have the emotional trauma of the fact that this killer is probably working with Deans dad and all that that entails.
Overall -
Basically this was a solid sequel that surpassed the first in many ways yet still fell flat in a few, but I loved it and it kept me hooked from practically the first page and I want more!
Would I Recommend This? Yes
Who To? People who like watching crime shows...and YA books
Will I read more from this author(or series)? YES!
A Giveaway!
Click here for all the info!
a Rafflecopter giveaway
Don't forget to check out this month's
Fangirls Spotlight
!
Check Out
My Goodreads Profile
for more book updates and feel free to add me!
Follow my blog with Bloglovin