Song Of The Moment- White Rabbit by Egypt Central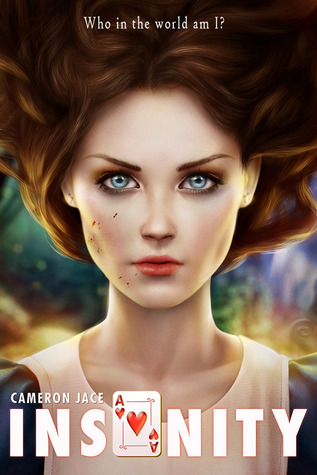 Insanity
by
Cameron Jace
Genre: Retellings?
Goodreads Link
Description -
After accidentally killing everyone in her class, Alice Wonder is now a patient in the Radcliffe Lunatic Asylum. No one doubts her insanity. Only a hookah-smoking professor believes otherwise; that he can prove her sanity by decoding Lewis Carroll's paintings, photographs, and find Wonderland's real whereabouts. Professor Caterpillar persuades the asylum that Alice can save lives and catch the wonderland monsters now reincarnated in modern day criminals. In order to do so, Alice leads a double life: an Oxford university student by day, a mad girl in an asylum by night. The line between sanity and insanity thins when she meets Jack Diamond, an arrogant college student who believes that nonsense is an actual science.
My Rating: 4.5 stars!
Review: Where to start?
This book is...fun. Confession time all I know about Alice In Wonderland is what I've read in retellings, I haven't so much as seen the Disney movie. Having said that I really loved the way all the Wonderland and Lewis Carroll history was wound into this book, it was so much fun to read about. This is unlike any retelling I've ever read, it's insane. I know quite a few authors have twisted the Alice In Wonderland tale many different ways, usually the creepier the better. This book definitely highlights the darkness of Wonderland and it's monsters but we don't actually see Wonderland, this is Wonderland monsters in the modern world, which is pretty awesome.
Now in my opinion with a book that leaves you unsure of everything and not really knowing anything, like how the Wonderland monsters exist in the real world and how and why Lewis Carroll locked them up in the first place and what exactly the Wonderland war is, there's two sides to it. On the one hand it's kinda awesome and exciting that you don't really know anything but on the other hand it can leave you feeling as if nothing happened in this book. I really liked it in Insanity and it definitely left me wanting more, at the same time I would have liked a little more information about Wonderland and everything only partially because I feel like an idiot when trying to explain this book. (This is where the half star deduction comes in) Just as much as I loved this book and I can't wait for the next one I think it could have been just a smidge better with a little more background revealed.
Let's Talk Characters
- I really enjoyed the characters, especially Alice and The Pillar, they were fun to read about and crazy and whimsical. I also liked the Cheshire I thought he was a pretty awesome villain and all his history was just crazy. Jack Diamonds...I get the feeling that maybe he'll play a bigger part in the next book? As is he pops in and out of the story and leaves me feeling highly confused. He was funny and odd. Which is good I guess...
Let's Talk Madness - Jub Jub and Frabjous two very common phrases in this book. I feel this really gives you a glimpse into the madness and insanity of this book. At it's heart this book is just about it's title, Insanity. It's fun and confusing and maddening and just awesome.
Overall - I really enjoyed this book and I'm not huge on Alice In Wonderland. Overall it's a fun fast read and highly entertaining. I loved all the Alice In Wonderland history woven into the background and I love that in end your not really sure what's real and what isn't.
Would I Recommend This? Yes.
Who To? People who want to read an epic Alice In Wonderland retelling.
Will I read more from this author(or series)? Yes.
Check back often for more of This Months Fangirls Spotlight!
Other Things On The Blog -
A Giveaway!
Click here for all the info!
a Rafflecopter giveaway
Check Out
My Goodreads Profile
for more book updates and feel free to add me!
Follow my blog with Bloglovin