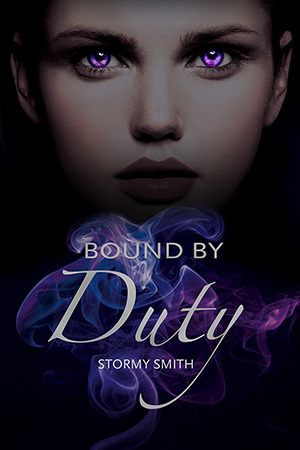 Bound by Duty
by Stormy Smith
Release date: July 24 2014
Purchase:
Amazon
On Goodreads
BOOK DESCRIPTION:
Amelia grew up in a world of half-truths. She knows she's an Elder but has no idea what that means. Her father reminds her daily that she must maintain control but he refuses to explain why. Even worse, she's betrothed to the prince of the Immortals and she doesn't even know his name.
Finally breaking free to live a few normal years at a community college, the last thing Amelia expects is to find her best friend in a cheeky Southern girl and to fall for a self-assured human who sees her for who she is and not what she'll be.
As she learns more about herself, Amelia realizes the line between love and duty is a thin one. As her power continues to increase exponentially and her questions are slowly answered, Amelia must make the ultimate choice. The question is, will her head or her heart win the battle?
Authors website!
Twitter!
Facebook!
Introducing Amelia and Aidan from Bound by Duty
Meet Amelia and Aidan – the main characters for the newly-released Bound by Duty from Stormy Smith! Amelia is the last living Elder. She has a power she can't control, a prophecy dictating her fate, a betrothal she can't stop and a heart lost to a human – Aidan Montgomery. They will bring out the best and the worst in each other as they wind their way through lies and half-truths, and make the ultimate choice. Love or duty?
Full name: Amelia Rose Bradbury
From: Gualala, California. Her community is off the beaten path and well-protected with spells that only allow other Mages to find it. With views of both the mountains and the Pacific Ocean, it can't be beat.
Current home: Brighton, California. A little beach town that considers the board walk and community college its only claims to fame. Amelia wanted a taste of "normal" and thought Brighton was the ticket.
Family: Older brother, Cole. Father, Nathaniel. Mother, Liana (deceased).
Favorite foods: Cherry Pepsi, sausage and green pepper pizza, caramel lattes and anything Greek/Mediterranean.
Go-to musicians: The Civil Wars, Jon McLaughlin, Ron Pope, Sara Bareilles, Florence and the Machine.
Likes: Being near the ocean, sarcastic banter, Sunday dinners with her brother, hamming it up in photos with her bestie to decorate their new apartment and smokey-eyed mysterious boys who make her feel too much.
Dislikes: Being told what to do, making small talk, anything with mayonnaise, heavy metal music, the word "control" and video games.
Little-known fact: Had her destiny not been chosen for her, Amelia would have become a marine biologist.
Full name: Aidan Levi Montgomery
Age: 19
From: Originally born on Catalina Island in California, but after age three, moved all over the state.
Hobbies: Mixed Martial Arts training, watching football, surfing
Favorite color: Blue
Music taste: Loves alternative, can sort-of stand top 40, hates country. Has an affinity for classical music but won't admit it out loud.
Quote that keeps him going: "You can't always get what you want, but if you try sometimes you just might find you get what you need." - Rolling Stones
Favorite foods: Seafood from hidden local spots, anything Italian and giant chorizo breakfast burritos.
Likes: Having his own apartment, playing chess, going after what he wants, being spontaneous, working out and being outdoors.
Dislikes: Doing things "because everyone else does," anything with mushrooms, entitled rich kids, cold pizza and the thought of living somewhere with winter.
Little-known fact: Given the choice, he'd rather read the book than see the movie.
There you have it. If you ask me with that "little known fact" alone Aidan sounds pretty swoon worthy! Make sure to check out Bound By Duty on
Goodreads
and
Amazon
!
A Giveaway!
Click here for all the info!
a Rafflecopter giveaway
Check Out
My Goodreads Profile
for more book updates and feel free to add me!
Follow my blog with Bloglovin