Song Of The Moment- Numb by Linkin Park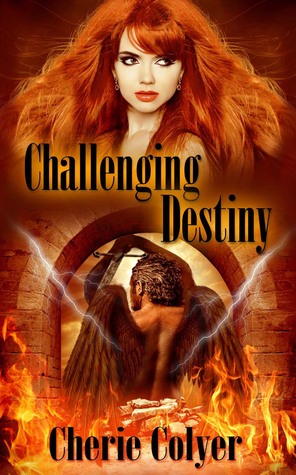 Challenging Destiny
by Cherie Colyer
How I got it - Review copy from author
Goodreads Link
Description -
Logan Ragsdale and his younger sister, Ariana, have been marked, chosen to be unwilling participants in a war between angels and demons.
Logan can sense something's not quite right. Like an unexpected chill on a summer's day, he can feel the unseen closing in. He's had these feelings before and, each time, someone close to him died. He's afraid this time it might just be Ariana.
Logan's fears are soon confirmed when he discovers their new friends aren't human, but rather representatives from Heaven and Hell sent to Earth to ensure he and Ariana accept their roles in an ancient prophecy. Demons want Logan to open the gates of Hell. Ariana has the power to stop them, but if she chooses to side with Heaven to spare the lives of thousands of innocent people, she'll damn her brother for eternity.
Together, they must derail the biblical event if they hope to save themselves and the future of mankind...but what price are they willing to pay to keep the other safe?
I received this book from the author through YA Bound to review honestly
My Rating: 4 stars

Review:
Overall this was a really good, very well written book that I highly enjoyed. I loved the story and the world, I had some small problems with some of the characters. There were a few parts where I got really annoyed by the choices the characters made but all in all it was a very solid read.
This book has a lot going on for it and it's pretty freakin awesome and unique, it had it's share of flaws but none really worth mentioning. If you're looking for a good YA Paranormal book then I highly recommend this one.
Would I Recommend This? Yes!
Who To? Lovers Of YA Paranormal Romance...duh!
Will I read more from this author(or series)? Probably.