Spotlight On:
Guitar Notes
and
Get Happy
by
Mary Amato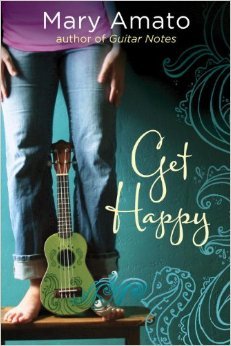 About:
Guitar Notes - Tripp, who plays guitar only for himself, and Lyla, a cellist whose talent has already made her famous but not happy, form an unlikely friendship when they are forced to share a practice room at their high school.
Get Happy -(comes out Oct. 28th) In this poignant, realistic, contemporary YA by a state master list star, perfect for fans of Sarah Dessen and Gayle Forman, a young songwriter builds a substitute family with her friends in place of the broken family she grew up with.
A hip high school girl who loves music, writes songs, and is desperate for a ukelele, learns to her shock that her father did not abandon her years ago and has been trying to keep in touch. She begins to investigate him, only to discover that he has a new life with a new family, including the perfect stepdaughter, a girl who Minerva despises.
Author Links:
Facebook
/
Goodreads
/
Twitter
/
Website
/
YouTube
/
The Story Behind This Spotlight
- These are two of my favorite contemporary books. I was lucky enough to receive an ARC of Get Happy back in like May(?) and loved it just as much as I love Guitar Notes, which I first read a couple years ago and have since read at least half a dozen times. Basically, I love these books and what with Get Happy coming out next month I figured they were the perfect spotlight for this month! I was going to spotlight them next month but...Halloween...that's all.
What Spotlight posts can be expected this month?
Reviews -
I will be rereading both books, finally posting my full review of Get Happy and reviewing Guitar Notes because I love it and have never reviewed it before! You can check out my pre-review of
Get Happy here!
Secrets!
Which may or may not include an author interview...I don't know.
Giveaway
!
- I will be giving away 1 ebook copy of Guitar Notes and 1 ebook copy of Get Happy(this will be a preorder)!
To enter -
fill out the rafflecopter below and check back on Oct 1st for the winners announcement, also don't forget to check back all month long for Fangirl Spotlight posts!
To enter you must -
Be able to accept a gifted ebook from either Amazon(kindle) or Barnes and Noble(Nook)
Be 18 or over or have parent or guardians permission! Seriously.
Other Things On The Blog -
The Night Of Writing Dangerously!
Check Out
My Goodreads Profile
for more book updates and feel free to add me!
Follow my blog with Bloglovin