Song Of The Moment- Waiting For The End by Linkin Park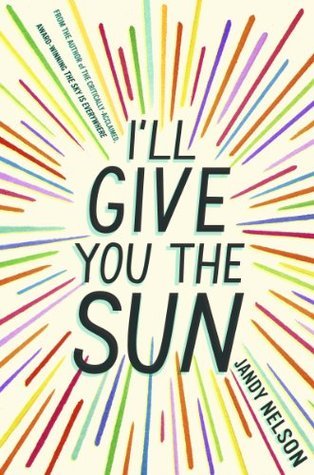 I'll Give You The Sun
by Jandy Nelson
Release date: Sep. 16th
How I got it - bought it
Genre: YA Contemporary
Goodreads
/
Amazon
Description -
A brilliant, luminous story of first love, family, loss, and betrayal for fans of John Green, David Levithan, and Rainbow Rowell
Jude and her twin brother, Noah, are incredibly close. At thirteen, isolated Noah draws constantly and is falling in love with the charismatic boy next door, while daredevil Jude cliff-dives and wears red-red lipstick and does the talking for both of them. But three years later, Jude and Noah are barely speaking. Something has happened to wreck the twins in different and dramatic ways . . . until Jude meets a cocky, broken, beautiful boy, as well as someone else—an even more unpredictable new force in her life. The early years are Noah's story to tell. The later years are Jude's. What the twins don't realize is that they each have only half the story, and if they could just find their way back to one another, they'd have a chance to remake their world.
This radiant novel from the acclaimed, award-winning author of The Sky Is Everywhere will leave you breathless and teary and laughing—often all at once.
My Rating: 5 Stars (for all the feels!)
It hits you right in the feels!

Review:
So this is one of those books were you are either going to love the writing style or you are going to hate it, and that will decide your overall feelings for the whole book. I don't know how to describe the writing style in this book, but I will try. It's the craziest, most descriptive, most beautifully unique, weirdest(in a good way) writing I have ever read. It's full of metaphors, some which make more sense than others, and to me it seemed almost magical, ethereal. But it works so well in this book that it never once seemed misplaced or annoyed me, rather it left me hungering for more from this author.
This book is heart breaking, it's full of those pulling on your heart strings moments, it's beautiful and magical and so many other things that I don't know how to explain. The book follows twins, Noah and Jude, it starts with Noah at age 13 then the next chapter is Jude at age 16, and it bounces back and forth, revealing all these small things that tie it together and slowly puts together the puzzle of what happened to them, of how they went from inseparable to barely talking. And it's just done so well. At parts I hated Jude and at parts I hated Noah but mostly I just felt so much for them. Heartbreak when they were fighting, anger when one of them would something to sabotage the other, and all I wanted was for them to find their way back to each other. This book is so unique in that it's all about this sibling bond, there are other things sure; everything that's going on with the rest of their family, romantic relationships, art. But in the end it all leads back to Noah and Jude.
How to describe Noah and Jude's relationship? They divide the world between them, they lay next to each other and synchronize their breathing. They're jealous of each other, they hurt each other, they love each other, they hate each other, but in the end they just need each other. I can't express my love of these two characters, they're flawed and down right hateful sometimes but you can't help but love them and root for them, when it comes to their romantic endeavors, and mostly when it comes to each other.
There are so many great side characters too, Guillermo and Oscar(swoon), Noah and Jude's parents, Brian. I loved Jude's "bible" and Noah's paintings and I loved the parrot who couldn't stop looking for Ralph. Both Noah and Jude are so odd and I loved it. The overall story is heartbreakingly beautiful and I loved all the art aspects and reading the descriptions or their art. And I'm going to stop reviewing this now because I feel like I keep repeating myself!
Overall-
This book is, to me, everything it promised to be. I absolutely loved and adored it, I believe my status update around the half way point on Goodreads was,
I just want to drown myself in this book....is that weird?
and I still feel that way. This book, the writing, it's colorful. Not as in bad language but as in when I think of this book I think bright flashing colors. So....read it!
Would I Recommend This? Yes, a million times yes.
To Whom? All the people! (Oddly I want to say fans of
Eleanor and Park
, or
Aristotle and Dante Discover The Secrets Of The Universe
)
Will I read more from this author(or series)? Definitely(I'm working on hunting down The Sky Is Everywhere)
Other Things On The Blog -
My New Writing Blog(look for Alex Steele)
The Night Of Writing Dangerously!
This Months Fangirls Spotlight
+ Giveaway!
a Rafflecopter giveaway
Check Out
My Goodreads Profile
for more book updates and feel free to add me!