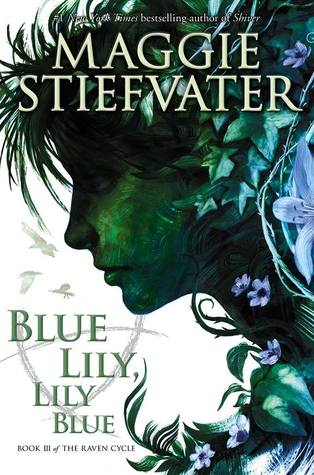 Song Of The Moment- My December by Linkin Park
Blue Lily, Lily Blue
by Maggie Stiefvater
Release date: Oct. 21. 2014
How I got it - Review copy from Netgalley
Genre: YA, fantasy?
Goodreads Link
Description -
There is danger in dreaming. But there is even more danger in waking up.
Blue Sargent has found things. For the first time in her life, she has friends she can trust, a group to which she can belong. The Raven Boys have taken her in as one of their own. Their problems have become hers, and her problems have become theirs.
The trick with found things though, is how easily they can be lost.
Friends can betray.
Mothers can disappear.
Visions can mislead.
Certainties can unravel.
I received this book from the publisher through Netgalley to review honestly
My Rating: 5 stars! I super loved it!
Initial Reaction:


Mind. Blown. From sheer awesomeness.
Review:
What to say!?! This was just as awesome as I had imagined it to be. Blue Lily, Lily Blue starts off right where The Dream Thieves ended and things get even crazier. My favorite thing about these books has always been how character driven they are and that stays the same in this one. Characters are even more developed and the whole book is fast paced and tense...and I need more!
Likes:
Blue - I really loved Blue in this book, even more so than I used to love her. I feel like she's really growing into her own while still being kickass and awesome. She had some interesting difficult things going on in this book but she remained badass all the way through.
Ships!!!
- All the ships and feels. Gansey and Blue, Ronan and Adam! I don't want to give anything away, but Maggie Stiefvater is a master at
slow burning romance
and it is torturous! I need more right now! There's all these little moments that you think might mean something, but you aren't sure and all I could think was "ship. ship. ship ship ship ship", that was literally my update on Goodreads at my favorite Ronan part. But alas, we get next to nothing! It's killing me, I just need to know if these characters are going to end up together!
Plot: The sense of adventure is still in this book even as it's a bit more dire and a lot of the characters are kind of loosing hope a little bit. I loved how everything was starting to affect Gansey and he was having doubts. I loved the development of Cabeswater and I really loved how all the characters grew more in this book. Like, they've always been great but in this one you really get the sense that they're growing into their own. The overall plot, the three sleepers, Blue's mom and dad, it's really good and that's all I'm going to say on it.
Adam: Adam has always been my least favorite Raven Boy. He annoys me because he is so stubborn, but he grew on me in this book. I think he's possibly the one who grew the most in this book and I really loved seeing that.
The Writing: I feel like there's nothing to say about Maggie Stiefvater's writing that hasn't already been said, so...it's epic as always.
Dislikes:
Noah: I feel like Noah was really in the background of this one. You still get a nice handful of Noah feels but, I don't know, it was almost as if some times the other characters forgot all about him. Which was sad because I love Noah!
Greenmantle: He was an interesting villain type character. But not my favorite part.
Confusion: There were a couple parts where I found myself confused about what was going on. And while this isn't the last book so obviously not everything needs to be all tidied up yet, I felt like a few things that should have been addressed and closed off, weren't. This isn't a huge deal as I wasn't all that confused, I did eventually figure it all out, and the things that weren't addressed could very well be big parts in the next book and that's why they weren't tidied up. But still.
Overall:
I really loved and enjoyed this book. It was just as good as the first two, possibly a bit better than at least the first. It gave me so many feels, mainly for the ships, and the cliffhanger! Oh the cliffhanger! I need the next one now. Please?
Would I Recommend This? Yes!
Who To? People who love character driven, epic stories? =)
Will I read more from this author(or series)? Uh....duh.
Other Things On The Blog -
My New Writing Blog(look for Alex Steele)
The Night Of Writing Dangerously!
Check Out
My Goodreads Profile
for more book updates and feel free to add me!