Song Of The Moment- Immortals by Fall Out Boy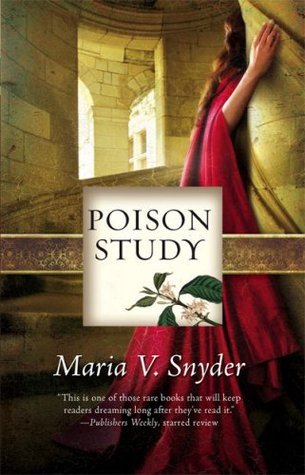 Poison Study
by Maria V. Snyder
Release date:
How I got it - bought it.
Genre: YA Fantasy
Goodreads Link
Description -
Choose: A quick death…Or slow poison...
About to be executed for murder, Yelena is offered an extraordinary reprieve. She'll eat the best meals, have rooms in the palace—and risk assassination by anyone trying to kill the Commander of Ixia.
And so Yelena chooses to become a food taster. But the chief of security, leaving nothing to chance, deliberately feeds her Butterfly's Dust—and only by appearing for her daily antidote will she delay an agonizing death from the poison.
As Yelena tries to escape her new dilemma, disasters keep mounting. Rebels plot to seize Ixia and Yelena develops magical powers she can't control. Her life is threatened again and choices must be made. But this time the outcomes aren't so clear...
My Rating:
4 stars - A few minor problems but I loved it!
Review:
Okay, so I really liked this book, but I found myself having a very hard time writing this review...I think I'm out of shape when it comes to reviews...
My initial thoughts when I finally started this book were along the lines of calling this the original Throne Of Glass. The beginning; Yelena is about the be executed and is offered a job where she will more than likely die anyways...it sounds similar, right? But similarities end there for the most part...
This book is full of adventure and magic, intrigue and a sweet slow romance, that's almost too slow and slightly non existent. I really loved the world, I thought the author really nailed the world building and I got a very good understanding of it all. I also really liked that the main character, Yelena, is the poison taster and all the training that she had to go through I thought it was very unique and more interesting than you would think.
I love the magic and how it's outlawed, just the magic itself is interesting and unique, the way it's all connected together. I loved that the king(he's not called king but...commander? I think) wasn't evil... You know in most books where magic has been outlawed it's usually that the king(or whatever) is evil and doesn't like people who have power that he doesn't, or wants to be the only one with magic. That's not the case in this book. It's refreshing how this book doesn't stick to the norms for fantasy books and I loved that. I also really liked the characters, Yelena and Valek of course, but my favorites were Janco and Ari.. They become Yelena's friends and teach her to fight and I just loved them so much!
So...my only problem was that it's kind of slow. It's definitely slow and lacking action, some parts are fairly boring, and it lacks an overall feeling of urgency, especially when it comes to the more action packed moments. Also the romance, I was really looking forward to a big pay off for the slow building romance and I didn't really get it... This isn't necessarily a bad thing, it's perfect for readers who aren't into romance in their fantasy, I used to be that way, not anymore! I need a good romance and it felt underwhelming.
Overall this is a really good book and I can't wait to get to the next one!
Would I Recommend This? Yes.
Who To? Fantasy fans, fans of Throne Of Glass
Will I read more from this author(or series)? Yes!
Other Things On The Blog -
My NaNoWriMo Profile!
Let's be friends!
My writing blog: Alex Steele @ Grace&Steele
Check Out
My Goodreads Profile
for more book updates and feel free to add me!