Gideon Lee
by Lisa Orchard
Release date: Oct 21
Purchase:
Amazon
On Goodreads
BOOK DESCRIPTION:
Lark Singer's relationship with her mother is prickly to say the least. As she enters a musical competition that could launch her career, Lark also searches for answers her mother would rather keep hidden. Throw into the mix the fact her best friend Bean has been acting strangely, and Lark finds herself launched into uncharted territory. Will her quest for answers sabotage her musical aspirations?
My Rating:
3.5 Stars
Review:
I'm kind of conflicted on this book. so this will probably be a short review. Overall it's a fun easy read, it doesn't feel like a complete book though. Going in I knew that it had started out as one long book and been split into three shorter books, so there's more, I'm not sure that was the best idea. Maybe it did need to be split but I feel like this book needed more. Honestly it's just that not much of anything happened.
We meet Lark, who is a teenage girl who wants nothing more than to get out of her small town. She loves music, playing guitar and singing. She's very judgemental...of everything. She's kind of a jerk, honestly. She demands her mother tell her who her dad is and I never felt like it was because she actually wanted to know, just that she wanted to punish her mom. Which is something she never stopped doing...
I did love the music aspect of this book, Lark's in a band and getting ready for a contest and I really liked that. I really liked Bean(Lark's best friend), though I wish his character had been a little more developed. I also liked Cassie(who is the "popular" girl, but more than that), but again more character development would have been nice, though I'm sure that's to come in the next book.
There's a few minor things like that it's repetitive; Lark is constantly looking to the moon for answers but the "bright orb" reveals nothing, and she's always trying to avoid the next battle with Francine(her mom), that's always "high on her list". But the big issue is that it doesn't feel like a full book.
The ending.
Okay, so again going in to this book I'd talked to the author and so knew that originally this had been one long book that had been separated into three, so obviously this isn't the end of the story. Having said that, I was expecting some kind of big, or at least medium size, reveal; something about Lark's dad, or Bean, or anything, but it just ends. Having split it into three books, each book has to stand on it's own, at least a little bit, it has to fill like a full story and still leave you waiting for the next. It kind of needs a cliff hanger, and I know as readers we generally complain about cliff hangers, but they're what keeps you on the edge of your seat for the next book.
Overall:
This is a really good book, I enjoyed it, it's fast paced and easy to read. I just felt like it wasn't a full story. I do highly recommend it, but make sure to keep in mind that it's really just the first part of an overall story(from what I know).
Would I Recommend This? Yeah.
Who To? Someone who wants a fast read.
Will I read more from this author(or series)? Yes, I will definitely read the next in the series.
Author Links: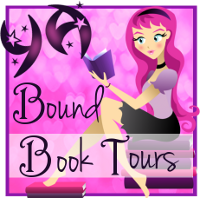 Don't forget to check out the other stops on this tour!