Song Of The Moment-
Bound By Duty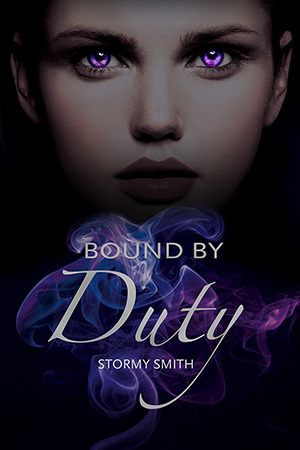 by Stormy Smith
Release date: July 24
How I got it - Review copy from author
Genre: YA Paranormal
Goodreads Lin
k
Description -
A number one best-seller in new adult and college fantasy on Amazon!
Amelia grew up in a world of half-truths. She knows she's an Elder but has no idea what that means. Her father reminds her daily that she must maintain control but he refuses to explain why. Even worse, she's betrothed to the prince of the Immortals and she doesn't even know his name.
Finally breaking free to live a few normal years at a community college, the last thing Amelia expects is to find her best friend in a cheeky Southern girl and to fall for a self-assured human who sees her for who she is and not what she'll be.
As she learns more about herself, Amelia realizes the line between love and duty is a thin one. As her power continues to increase exponentially and her questions are slowly answered, Amelia must make the ultimate choice. The question is, will her head or her heart win the battle?
I received this book from the author to review honestly
My Rating:
4 stars

Review:
Hmm. Where to start? I've been having difficulties with my reviews again...
This was actually a really good book, I had my doubts, was worried it would be kind of...cliched? But it was far from that. It was really pretty unique and original. I overall really enjoyed the characters and the development of the overall plot, the main character(Amelia) could be slightly annoying and whiny....but not overly so or to the point where it made me hate her.
This is a really gripping book, I never found myself completely bored and struggling to finish it(though like any book it had a few slow boring moments). I think my favorite thing was probably the growth of Amelia, she starts out a bit whiny, and kind of over-reacting to a lot of things, but also shy and reserved... But around the half way mark she really starts coming into her own, and I loved that. There was also a nice cast of side characters that were pretty well developed, which is something I always look for in a book. I didn't really swoon for the love interest but I think I'm the only one... I love love loved Bethany though!
The plot: I loved it. I loved the whole Immortals thing and I felt so bad for Amelia always being lied too and having basically no say in her life.
Overall: I really enjoyed this book, the ending has me waiting, slightly on the edge of my seat, for the next. It was somewhat lacking in that final wow factor, where you can't put the book down, for me at least. I can't pinpoint what it was, but while I felt for the characters and was intrigued by the story, and even though it was never strictly boring, it just lacked that final oomph, for me at least.
I'm going to wrap this review up quickly because I suck at reviews recently and I just tried to count how many words I'd written...I have NaNoWrMo brain... Anyway, if you are a lover of paranormal books than I do highly suggest this one, it's an interesting, really good, fun and quick read!
Other Things On The Blog:
Enter To Win A $10 Amazon Gift Card!
My writing blog:
Steele @ Grace&Steele
Add me on Goodreads for more book-ish fun!