Song Of The Moment- Angel With A Shotgun by The Cab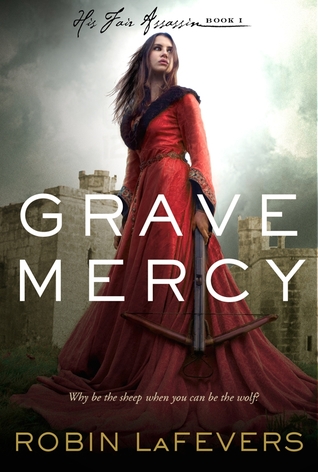 Grave Mercy
by Robin LaFevers
Release date:
How I got it - Bought it!
Genre: YA Historical Fiction/Fantasy
Goodreads Link
Description -
Why be the sheep, when you can be the wolf?
Seventeen-year-old Ismae escapes from the brutality of an arranged marriage into the sanctuary of the convent of St. Mortain, where the sisters still serve the gods of old. Here she learns that the god of Death Himself has blessed her with dangerous gifts—and a violent destiny. If she chooses to stay at the convent, she will be trained as an assassin and serve as a handmaiden to Death. To claim her new life, she must destroy the lives of others.
Ismae's most important assignment takes her straight into the high court of Brittany—where she finds herself woefully under prepared—not only for the deadly games of intrigue and treason, but for the impossible choices she must make. For how can she deliver Death's vengeance upon a target who, against her will, has stolen her heart?
My Rating:
Initial Reaction:
Review:
Okay, so I didn't think I was really going to like this book, I didn't think it was my cup of tea. Mainly because I was thinking it's historical fiction, I don't like historical fiction and so I shouldn't like this right? WRONG! It is historical fiction, but it's so much more. Thinking of this book and other "historical fiction" that I dislike I've realized it's not all historical fiction. Stuff set in medieval times, or really anything with any kind of magic, I'm good with. Stuff set in like the 1900s? Not really for me. Stuff that is technically historical fiction but feels almost more like fantasy? That is for me.
Anyways, I found the beginning to be kind of slow, really the whole first half of the book, I enjoyed it and I wasn't bored but I wasn't really highly invested in the story or the characters... That changed with the second half. Quite suddenly I found myself loving Ismae and Duval and..feels!
This book really has everything you want in a fantasy book; assassins, gods(Saints?), magic of a sort, intrigue and mystery, and an awesome world. I was completely fascinated by Deaths Handmaidens, I mean, how awesome does that sound? Even when you don't know what it is? The book also had great characters, they were all really well developed, even the side characters, Ismae is kickass and she never stops being a badass, which is something I always appreciate in a book.
Let's talk about some of the other things I loved:
I loved the world. It was a great mix of historical and fantastical. I loved the dialogue and the writing it felt very realistic for the time period and really draws you in. I also loved the side characters, Anne and Beast most of all. Basically, I really loved it...okay?
The ending. Oh how I loved the ending. Like not just the actual ending but the last like 100 pages...they were the best. And Mortain? That's so intriguing, everything about the whole Deaths Handmaidens, I just want to know more!
Also, if I understand right the other two books follow other characters, Sybella for book two, which the author did an epic job setting up for that. You get little glimpses of her character which make you want to know more, but aren't so weird that it makes you question why it was there. And then Annith for book 3...I think? Either way I am super excited to find out more about this world and these other characters!
Overall:
Once you get past the first half, which isn't boring just slow, then I promise you you will not be able to put the book down. So, if you like awesome books, fantastical books, and kickass assassin main characters, I highly recommend this book.
Would I Recommend This? Yes!
To whom? Readers!
Will I read more from this author(or series)? Yes!
Other Things On The Blog -
My NaNoWriMo Profile!
Let's be friends!
My writing blog: Alex Steele @ Grace&Steele
Check Out
My Goodreads Profile
for more book updates and feel free to add me!