Song Of The Moment - Waiting For The End To Come by Linkin Park
Sunday Post is a weekly meme hosted over at
Caffeinated Book Reviewer

Real Life
So, I went to San Francisco last Sunday for the Night Of Writing Dangerously, which was just so awesome and so much fun, I talk all about it in a post here! I got back late Monday. This week has been fairly uneventful, I didn't write anything for NaNo since Sunday...I went five days without writing before starting again yesterday. I already won NaNo but still, the month is not over and neither is my book!
We did start decorating for Christmas though! We decided to start early as both my brothers work retail and will have no time after Thanksgiving. We built a snowman out of chicken wire and lights...it was slightly difficult...and I will eventually do a post all about it with tips for decorating and pictures!
I'm also in the middle of dying my hair...which I did back in September(I even did a
post with tips for dying your hair bright colors!
), so mine was starting to fade plus I'd done orange and black for Halloween... It's been fun re-dying... I had to strip my bangs and streak of their orange color, so I bleached it, then I did red at the roots and halfway down, tomorrow I'm adding green! Because I love Christmas!
Reading wise I am still kind of sucking... I'm half way through
Dark
Triumph
and almost halfway through
Vivian vs The Apocalypse
which I really wanted to read though I probably should have picked a book that comes out sooner so that I could post the review now instead of at least a month from now...I got overly excited.
New Books
I actually got quite a few books this week...and I don't think I paid for any of them so I haven't broken my book buying ban!
Won/traded
I won a giveaway about two weeks ago...from
Anya @ OnStarshipsandDragonwings
where I got to pick two ARCs! Thanks again Anya!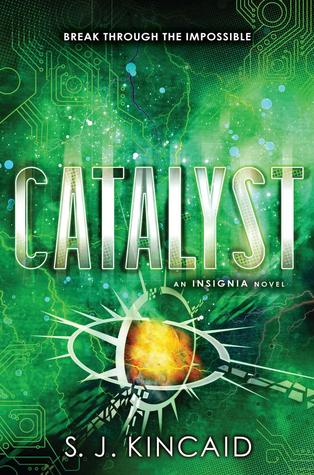 Then
ARCycling
happened a couple weeks ago and my book came in and that is:
Edelweiss
I finally got my first book from Edelweiss! It's kind of always intimidated me, because it looks so much harder to use than Netgalley, but I finally made an account and requested some books and I got one! And it's from HarperCollins! So, thanks!
Basically I got a lot of sequels...
Friday: Nothing!
Coming Soon(on the blog next week!)
No idea. There will be some meme's, including a new writing related one that I am going to be linking up to. There will hopefully be a review of some kind, and a Thanksgiving related post. At some point I will also be picking the winner of my giveaway which is ending...Tuesday? Maybe Monday...I should check on that.
How was your week!? Anything interesting happen?