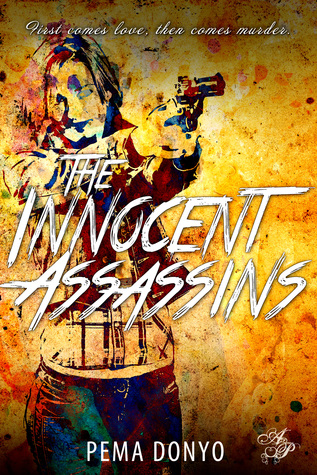 The Innocent Assassins
by Pema Donyo
Release date: June 24th, 2014
How I got it - Review copy from Author
Genre: YA, Espionage
Goodreads Link
Description -
There are three rules to staying an assassin at the corporation of Covert Operatives: (1) your parents must be deceased, (2) your contracts must remain confidential, and (3) you must be under the age of eighteen.
After a murder mission goes awry a month before her eighteenth birthday, Covert Operatives assassin Jane Lu finds herself caught by the federal government and forced to spy for the CIA while remaining in Covert Operatives. Once her spying mission is over she will be allowed to live a civilian life without facing criminal consequences, a life she's only dreamed of having.
As Jane leaks information to the CIA, she uncovers secrets with enough power to both destroy Covert Operatives and her own boyfriend, Adrian King, who's next in line to be CEO of the company. When her identity as a double agent for the CIA is discovered within Covert Operatives, she must decide where her allegiance, and her heart, truly lies.
I received this book from the author to review honestly
My Rating:
3 Stars: Meh.
How I Feel About The Book As A Whole: Indifferent.

Review:
Underage assassins and spies? Yes, please. That was pretty much my entire thought process when I was asked to review this book...good thought process, no? This book sounds mysterious and badass at first glance, and it's both those things, in a way. This is going to be a short review because, unfortunately, it's one of those books that just toes the line; I definitely didn't dislike it but I didn't love it either.
Jane Lu has been part of Covert Operatives(CO) for nearly as long as she can remember, taken from foster care and trained to kill from an early age it's all she's known, but not all she wants. I really liked the premise of this book, the whole Covert Operatives thing was very intriguing, at first your not sure if they're good or bad, and the whole idea in general is very intriguing. Using minors for hired assassinations because who would ever suspect them? It could have been great, could have been awesome. But it fell a little short for me.
I can't exactly pinpoint what it is that wasn't there for me, I just never really connected with this book. I wasn't swept up in the plot, wasn't invested in the characters. It wasn't bad, I never once was really bored or considered putting it down, it just didn't have that intrigue and mystery and fast paced feeling that I feel a spy novel should.
Character wise, Jane was an okay character, but didn't really stand out in a sea of YA characters. She could be annoying, she was constantly fighting with Adrain(her boyfriend and future Covert Operatives CEO), and half the time I felt like she didn't even know what she was mad about, which really irritated me. I didn't like either of the kind of love interests, I'm still not sure if Tristan was or was not a love interest, he becomes Jane's informant for the CIA and seemingly randomly decides he wants to date her? It was very strange and I did not like the way he kept forcing kisses on her and then demanding that she wanted it...I don't know, it's one of those things that most readers probably wouldn't think twice about, but made me uncomfortable.
Adrian King. Probably the most interesting character though I can't say whether I liked him or not. Jane kept insisting that he was power hungry and also that she loved him, I didn't see either of these things. I'm not saying I was on his side every time he insisted he was doing everything for her, but I also felt like she was making things up in her head, because as a reader I never saw him being power hungry. Also, they broke up like three times throughout the book? Every time for basically the same thing...that was kind of annoying. I just never connected to their characters and felt like they belonged together and were in love...
Overall:
In no way did I think this was a bad book, it's a good book, but unfortunately it's one of those that ends up in the meh category for me.
Would I Recommend This? Yes.
Who To? Fans of the genre.