Song Of The Moment: Snow by New Found Glory
I've never reviewed a set of short stories before so this should be interesting. I will do each story separately but since they're so short I'm only going to do a sentence or two for each...okay? I'm also rating them all out of 10 stars rather than five...I needed more for this!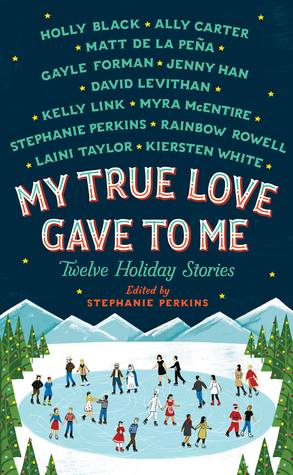 My True Love Gave To Me
Edited by Stephanie Perkins
Release date:
Genre: YA Contemporary
Description:
If you love holiday stories, holiday movies, made-for-TV-holiday specials, holiday episodes of your favorite sitcoms and, especially, if you love holiday anthologies, you're going to fall in love with MY TRUE LOVE GAVE TO ME: TWELVE HOLIDAY STORIES by twelve bestselling young adult writers, edited by international bestselling author Stephanie Perkins.
10/10 Stars
Midnights by Rainbow Rowell:
Of course I loved this, it's Rainbow Rowell! This was a very cute short story, I loved that it took place over a few different New Years and I loved the characters Mags and Noel. I must say, this was my favorite and Rainbow Rowell is an expert short story writer in my opinion, it's very short but very well developed.
9.5/10 Stars
The Lady and The Fox by Kelley Link:
This one had a kind of fantasy/paranormal thing going on that was a little disappointing because you never knew what was going on, but I still really loved it. It was a very interesting and sweet romance.
9.5/10 Stars
Angels in the Snow by Matt de la Peña
: I really loved this one. Shy was sweet and way too prideful to where it irritated me a lot, but I still loved him. It had a nice dose of humor and a sweet romance on top!
6.5/10 Stars
Polaris Is Where You'll Find Me by Jenny Han
: Hmm. This one was interesting, it was good but it had definite faults. I just didn't feel we got to know the character as well in this one as some of the others, and I was kind of confused and mad at the ending because...it was kind of just left open and nothing much at all happened. Still, it was different and a cute story.
10/10 Stars
It's a Yuletide Miracle, Charlie Brown by Stephanie Perkins
: I loved this one. It's the definition of a cute and fluffy story, exactly what you'd expect from Stephanie Perkins.
9.5/10 Stars
Your Temporary Santa by David Levithan
: I loved this one, it was very cute and adorable. But also very very short and once more it fell just a tad short in the character department.
2.5/10 Stars
Krampuslauf by Holly Black
: Eh...I did not like this one. It was my least favorite honestly. It had a few funny moments, but I didn't like the character, there was kind of a romance but I didn't FEEL it, and the whole premise, the fantasy like element was just confusing.
10/10 Stars
What the Hell Have You Done, Sophie Roth? by Gayle Forman: This one is completely adorable and just so very awesome. Again, it's Gayle Forman so of course! This is definitely one of my favorites, it was funny and I loved the characters.
3/10 Stars
Beer Buckets and Baby Jesus by Myra McEntire: This story and me just didn't get along. I didn't like the characters or the plot, the "message" felt a bit forced and awkward. It's just a "not my cup of tea" thing.
9/10 Stars
Welcome to Christmas, CA by Kiersten White: This is one of the funniest, I think. It was really enjoyable and I loved the town of Christmas and all the talk of food made me hungry!
8.5/10 Stars
Star of Bethlehem by Ally Carter:
This one was very interesting and I liked it a lot. It's not the best of the bunch, but it's still really good. I would have liked the characters to be a little more developed and defined but seeing as it's a short story, it was definitely good for what it was. I really liked the main character and the love interest was pretty okay, my favorite part was the aunt though, I loved that that was kind of the main relationship rather than the romantic one.
6.5/10 Stars
The Girl Who Woke the Dreamer by Laini Taylor: This is definitely the one I'm most conflicted about. It was good, beautifully written of course, because Laini Taylor... But it was also very strange and slightly boring. I honestly don't know how I feel about this one, it was just really really weird, not bad weird but not great weird either.
Overall:
I really enjoyed this collection, it's fun and easy to read. A perfect holiday read or just for when you want a nice pick me up. I loved most the stories there were only a few I didn't like. Honestly, this will probably turn into one of the few books that I reread every year, though I will skip a couple of them, I'm sure. For the most part, they were all nice complete short stories, though a few left me wanting more and one very much confused me(Krampuslauf by Holly Black).
Have you ever read a collection of short stories? Do you like short stories?