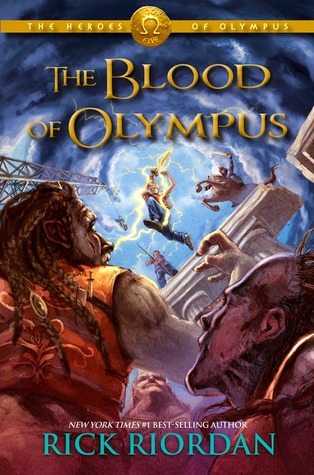 The Blood Of Olympus
by
Rick Riordan
Of course. How could I not put it on my list? Probably my favorite book of the year, the ending to my favorite series and it was... Just as good as I always imagined it would be.
She is one of the best contemporary writers ever. And I don't know why I waited so long to read this one! It's heartbreaking and beautiful.
I never know how to explain my love for this book but trust me, it's the bomb. This authors writing is very descriptive and...magical...that's how I always explain it, but I don't know that it makes sense!
Honorable mention: Ignite Me
So, I loved Unravel Me, it was probably my favorite of the series. I also really liked Ignite Me, I just wasn't completely happy with the way the series ended, I felt a little cheated because there wasn't enough action. But, I love this authors writing style nd this is one of the few times when the second book is the best!
Laini Taylor is awesome, I love the world of Daughter of Smoke and Bone and while this last book was a little long and there were a few things that seemed pointless all together this was an awesome ending to the series and I loved it.
This is a very interesting book, it was a review book that I got because it sounded interesting. It made this list simply because of how unique it is, I kind of hated the ending, but it was a...brave ending. It was an ending that most debut authors wouldn't use.
I just loved this book, it's fairly old and just an epically fun fantasy book.
I didn't actually have high expectations for this book, but it was awesome. This is one of those series that just gets better and better.