Song Of The Moment- So Far Away by Red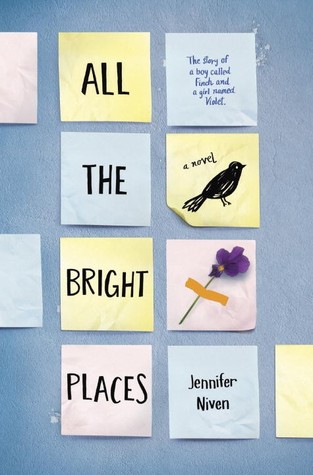 All The Bright Places
by Jennifer Niven
Release date: January 6th, 2015
Genre: YA Contemporary
Goodreads Link
Description -
The Fault in Our Stars meets Eleanor and Park in this exhilarating and heart-wrenching love story about a girl who learns to live from a boy who intends to die.
Soon to be a major motion picture starring Elle Fanning!
Theodore Finch is fascinated by death, and he constantly thinks of ways he might kill himself. But each time, something good, no matter how small, stops him.
Violet Markey lives for the future, counting the days until graduation, when she can escape her Indiana town and her aching grief in the wake of her sister's recent death.
When Finch and Violet meet on the ledge of the bell tower at school, it's unclear who saves whom. And when they pair up on a project to discover the "natural wonders" of their state, both Finch and Violet make more important discoveries: It's only with Violet that Finch can be himself—a weird, funny, live-out-loud guy who's not such a freak after all. And it's only with Finch that Violet can forget to count away the days and start living them. But as Violet's world grows, Finch's begins to shrink.
This is an intense, gripping novel perfect for fans of Jay Asher, Rainbow Rowell, John Green, Gayle Forman, and Jenny Downham from a talented new voice in YA, Jennifer Niven.
My Rating:
4.5 Stars: I really really loved it/it made me bawl like a baby

Review:
First, I have to say is that this book is one of the best contemporaries I've ever read, not only does it have great writing and characters but the story is just told so well and I don't think it's one I'll ever forget.
This story is obviously tragic, but it's also funny, and hopefully, and yeah, it's probably going to break your heart but only after it's convinced you that nothing in the world can be as great as Violet and Finch. This book is going to teach you things, important things, and things you didn't know you wanted to know, it's going to make you laugh, and cry, and everything in between.
I fell for Theodore Finch, basically from page one and I loved him and I hated him and basically I felt everything for him that Violet did. I loved Violet too, not as much as I loved Finch, but she's still a really good three-dimensional character. And mostly, I loved them together. They're widely different and both kind of crazy and broken, which makes it all the more great and heart breaking.
I'm not going to say it's perfect...I'm sorry....please don't throw rotten fruit at me! I had a few *minor* problems with it. First, I hated Finch's parents...I get they have to be this way and this is just the way they are and it's not even "classic absence of parents in YA", but I hated them. I really really hate them. Also, and I admit this could totally be me being dense or dumb or just plain missing something, but I was very confused by the whole "Asleep" thing. Finch is constantly talking about staying "Awake" and how the last time he was "Asleep" it was for over a month...am I missing something here? Was it explained and I didn't see it? Because I'm still confused about it...
Overall, this is an amazing, sad, heartbreakingly beautiful book that I highly suggest everyone read. It deals with everything from death to mental illness to truly being Awake and living. Though, if you're prone to crying from heartbreak, do have tissues handy!
This book leaves you like:
Would I Recommend This? Yes.
Who To? People who like having their hearts ripped out of their chests and then needing massive amounts of chocolate if they every wish to be okay again!
Will I read more from this author(or series)? Duh.