Song Of The Moment- Kids Aren't Alright by Fall Out Boy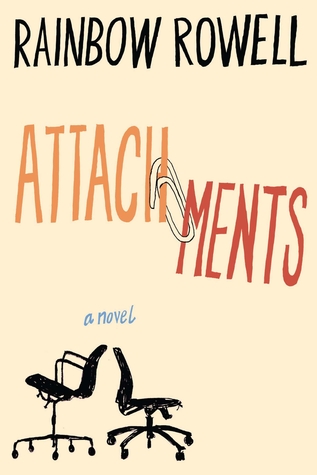 Attachments
by Rainbow Rowell
Release date:
Genre: Romance...?
Goodreads Link
Description -
"Hi, I'm the guy who reads your e-mail, and also, I love you . . . "
Beth Fremont and Jennifer Scribner-Snyder know that somebody is monitoring their work e-mail. (Everybody in the newsroom knows. It's company policy.) But they can't quite bring themselves to take it seriously. They go on sending each other endless and endlessly hilarious e-mails, discussing every aspect of their personal lives.
Meanwhile, Lincoln O'Neill can't believe this is his job now- reading other people's e-mail. When he applied to be "internet security officer," he pictured himself building firewalls and crushing hackers- not writing up a report every time a sports reporter forwards a dirty joke.
When Lincoln comes across Beth's and Jennifer's messages, he knows he should turn them in. But he can't help being entertained-and captivated-by their stories.
By the time Lincoln realizes he's falling for Beth, it's way too late to introduce himself.
What would he say . . . ?
My Rating:
5 Stars

Review:
The best way I can think to describe this book is a good old fashioned quirky rom com. First you have Lincoln, whose only ever had one real relationship and has no idea what to do with his life, he gets a job reading people's emails at a newspaper. Then you have Beth and Jennifer who seem to spend way to many hours emailing each other at work, they talk about everything, Jennifer's conviction that she's pregnant when she's not and Beth's relationship that seems to be going nowhere. Basically, this is just a really fun quick read. It's set in the year 1999 right before New Years so you have the whole Y2K thing in the background that I found very interesting.
Of course, this book has amazing writing because...Rainbow Rowell. I especially loved how well she built up the characters of Beth and Jennifer who you only got to know through their emails, it was so unique and done very well.
Lincoln was a great main character and while I was worried that I wouldn't connect with him and this story since it's not YA, I actually really enjoyed it. He's a kind of nervous, very nice, and very shy. He's spent practically all of his life(he's 28) in school, getting multiple degrees and still never figuring out what he wanted to do. I really felt for him, I cringed at his old memories of his girlfriend and how..niave he was. I was completely rooting for him the whole time and I just wanted him to get his life together!
I also really enjoyed the characters of Beth(love interest) and Jennifer(her best friend), they were hilarious and their emails were some of the best parts(maybe the best parts). I also loved reading about Beth's relationship with her long time boyfriend, whose name I can't seem to remember, because it was such a unique relationship and even though the guy was kind of a douche I feel like you can't help but like him,
Overall.
A really fun read, I read it in like 4 hours straight through the night. It has the characteristic great characters and amazing writing of Rainbow Rowell and even though it's not YA I feel like a lot of YA readers would love it.
Would I Recommend This?
Yes!
To Whom?
Fans of YA Romance who are considering branching out into the NA/Adult realm.
Will I read more from this author(or series)?
Of course...this isn't a serious question is it?