Song Of The Moment- Uma Thurman by Fall Out Boy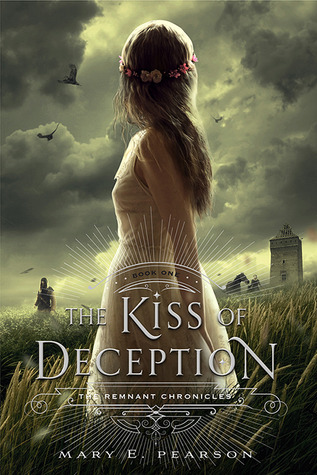 The Kiss Of Deception
by Mary E. Pearson
Release date: July 8th, 2014
How I got it - bought it
Genre: YA Fantasy
Goodreads Link
Description -
A princess must find her place in a reborn world.
She flees on her wedding day.
She steals ancient documents from the Chancellor's secret collection.
She is pursued by bounty hunters sent by her own father.
She is Princess Lia, seventeen, First Daughter of the House of Morrighan.
The Kingdom of Morrighan is steeped in tradition and the stories of a bygone world, but some traditions Lia can't abide. Like having to marry someone she's never met to secure a political alliance.
Fed up and ready for a new life, Lia flees to a distant village on the morning of her wedding. She settles in among the common folk, intrigued when two mysterious and handsome strangers arrive—and unaware that one is the jilted prince and the other an assassin sent to kill her. Deceptions swirl and Lia finds herself on the brink of unlocking perilous secrets—secrets that may unravel her world—even as she feels herself falling in love.
My Rating:
5 Stars
Review:
Um, I kind of loved this book....that's all. End of review..... No?
Basically, this book is everything it promises, the Kiss Of Deception is the perfect name and I just really really love it, okay? And I don't know how to review it!
A Synopsis:
This book follows Princess Lia who, as a first daughter of the king, is being forced to marry a prince to solidify a alliance between their kingdoms, at the last moment Lia decides to run away forging a new life in a more peaceful town. The prince however is not happy with this and takes it upon himself to track her down, not to mention the assassin sent from a faraway land to kill her, The deception? You don't know who's the prince and who's the assassin!
Obviously this is going to be a really lame review on my part, I hate writing reviews of books I loved, so let's just get it over with!
A Few Of My Favorite Things:
Lia
: I loved Lia, she's such a strong and awesome main character, she'd badass and headstrong and in no way a weak character, really she's my favorite kind of main character to have in fantasy novels. She's compassionate and kickass and not selfish in the least(well maybe a tiny), which are all things I find awesome in main characters. A lot of the time the awesome badass and headstrong female character can turn into a slight wimp as soon as she falls in love, but that never really happens with Lia, which I greatly appreciate.
The deception(love interests)
: First of all it's the best kind of love triangle, one that makes sense. Secondly, it's beautiful torture! It's not as confusing as it might seem really I confused myself because I knew which one out of the prince and assassin I wanted to be the one she was falling for and so I kept trying to convince myself it was that one and basically just trying to figure it out and that's when it gets confusing. I really loved how the author did it though, you get to know both Kaden and Rafe without knowing who is who and even when you find out she still does an amazing job of developing their characters and their relationships with Lia. Most the time I didn't even know who I shipped her with, which was kind of awesome!
The world/plot/story/everything else
: I thought the world was awesome, I could have used a few more explanations of everything and there really wasn't a ton of action but I never felt like I was getting weighted down with an info dump or bored, despite the lack of action. I loved the world and the mystery of the "gift' that first daughters have, I would have liked a little more explanation, but it didn't bother me that much. What really struck me in this book was the characters and the relationships they were they best part and so well done.
Overall
: I'm really really anxious for the next one because I want to know more about the world and I need more Lia and Kaden and Rafe and just everything! I think this is a great fantasy read especially for people who love a good romance with their fantasy!
A random note
: I'm really conflicted on who I ship because I picked between the assassin and the prince long before I knew who was who and then I just kept hoping my favorite was who I wanted them to be and then....I don't even know anymore! You know?
Would I Recommend This? Yes!
Who To? Any and all YA fantasy lovers.
Will I read more from this author(or series)? Definitely.