Song Of The Moment- All The Small Things by Blink 182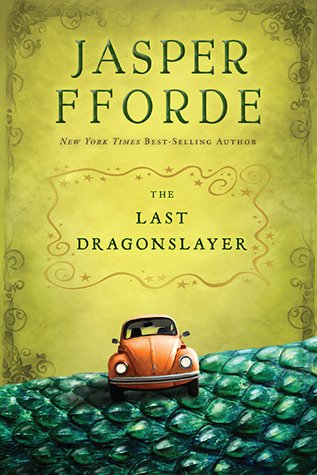 The Last Dragonslayer
by Jasper Fforde
Release date: Oct. 2012
Genre: YA/MG Fantasy
Goodreads Link
Description -
In the good old days, magic was indispensable—it could both save a kingdom and clear a clogged drain. But now magic is fading: drain cleaner is cheaper than a spell, and magic carpets are used for pizza delivery. Fifteen-year-old foundling Jennifer Strange runs Kazam, an employment agency for magicians—but it's hard to stay in business when magic is drying up. And then the visions start, predicting the death of the world's last dragon at the hands of an unnamed Dragonslayer. If the visions are true, everything will change for Kazam—and for Jennifer. Because something is coming. Something known as . . . Big Magic.
My Rating:
3 Stars: Meh. Liked it but didn't love it.

Review:
This sounds like a whimsical quirky adventure novel, maybe a little bit weird but the good funny kind of weird. It is that, but also it kind of just fell flat for me.
Jennifer Strange is a foundling who has recently taken over running Kazam where she's basically the manager of a bunch of wizards, finding them jobs and then making sure they don't get out of control or fall into total ruin. Magic is disappearing in the Ununited Kingdoms and Jennifer seems to be the only one that cares.
This is a really good book, but it just wasn't as good as I wanted it to be. It's fairly short and fast paced yet still seemed a little boring and slow at points. I was expecting laugh out loud moments and didn't even encounter any silent laughter moments. There's really nothing wrong with it, I mean I didn't find any flaws, it's a fun, fast-paced, book with interesting, wholesome characters and a very unique story/world.
I've never felt this way before, but I honestly think I'm just a little too old for this book? I can enjoy middle grade anytime and maybe it's just I picked a bad time to read this, I was sick and not in a funny mood, but I do think I would have found it more entertaining when I was younger.
Overall
: A solid read just maybe not for me.
Would I Recommend This? Yeah.
Who To? People in need of a lighthearted easy fantasy read!
Will I read more from this author(or series)? Maybe...?
In other news, this is the first of my TBR Pile Challenge picks so yay! One down eleven to go!
Have you ever read a book that you thought you were just too old for? Or maybe you just weren't in the right mood to read?