Song Of The Moment- Fourth Of July by Fall Out Boy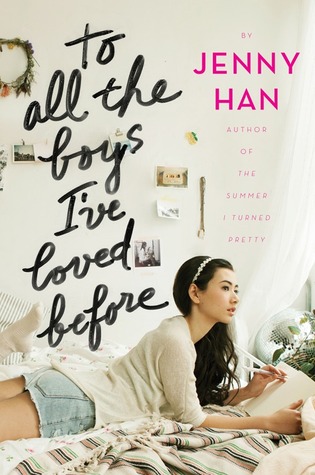 To All The Boys I've Loved Before
by Jenny Han
Release date: April 2014
Genre: YA Contemporary
Goodreads Link
Description -
To All the Boys I've Loved Before is the story of Lara Jean, who has never openly admitted her crushes, but instead wrote each boy a letter about how she felt, sealed it, and hid it in a box under her bed. But one day Lara Jean discovers that somehow her secret box of letters has been mailed, causing all her crushes from her past to confront her about the letters: her first kiss, the boy from summer camp, even her sister's ex-boyfriend, Josh. As she learns to deal with her past loves face to face, Lara Jean discovers that something good may come out of these letters after all.
My Rating:
5 Stars
(1 for pure fluffiness, 1 for epic writing, 1 for swoon-worthy moments, and 2 for Lara Jean)
Review:
I read this book in a manner of hours and I just loved. It was way more than I thought it was going to be, I don't know how to explain it. It's like it is a light and fluffy contemporary book yet it's also more without crossing into "tragic" territory.
I honestly have no idea why I didn't read this sooner because the idea behind this, the premise of the love letters Lara Jean writes to a boy every time she's been in love and decided she's done with them, it's like my favorite thing ever. I just love the premise so so much!
I loved Lara Jean, I just kept thinking how she's my kind of person. I wasn't expecting this to be the kind of story where it's kind of a slow building romance where you completely fall for the characters as they fall for each other, but it is! And that's basically my favorite thing ever.
This is my first Jenny Han book and I found myself really loving her writing style.
I also enjoyed the family relationships especially between Lara Jean and Kitty, I think mostly because I'm the youngest in my family so I loved seeing Lara Jean trying so hard with her little sister. Also this book is surprisingly light on the drama. Of course, there is drama, there's has to be in contemporary, but it wasn't overwhelming and constant which is always a good point in my book.
Overall
this is a really fun book and probably one of my favorite contemporaries I've read. Seriously I need the sequel now! I want to know what happens next because I think Lara Jean might be my fictional best friend.
Would I Recommend This?
Yes! Highly, I mean, I'd scream it from rooftops...
To Whom?
All the people? But mostly anyone who loves contemporary(and mostly to Jillian @ Jillian's Books)
Will I read more from this author(or series)?
Um, yes. I'm already struggling with myself control over wanting to buy the whole Summer I Turned Pretty trilogy!
Have you ever given/got a love letter? I haven't but to me love letters are one of the most romantic things(what? I'm a romantic at heart!) the only thing above them being mixed tapes, I don't care if that died out years ago!