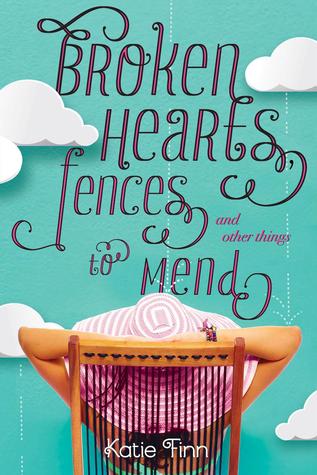 Broken Hearts, Fences, and Other Things To Mend
by Katie Finn
Release date: May 2014
Genre: YA Contemporary
Goodreads Link
Description -
Hot sun. Blue waves. New romances. Old secrets.
Gemma had her summer all planned out, but it takes a sharp turn when she gets dumped and finds herself back in the Hamptons after a five-year absence.
Being there puts her at risk of bumping into Hallie, her former best friends (that is, before Gemma ruined her life). But people don't hold grudges forever. Do they?
Gemma intends on making amends, but a small case of mistaken identity causes the people she knew years ago—including Hallie and her dreamy brother, Josh—to believe she's someone else. As though the summer wasn't complicated enough already.
Filled with summer sun, boys, and friendships gone sour, Katie Finn's first novel in the Broken Hearts and Revenge series sizzles and delights.
My Rating:
4 Stars - I really enjoyed it.

Review:
Gemma's summer is off to a bad start when her boyfriend of two years dumps her in Target. Shipped off to the Hamptons to spend the summer with her father Gemma's only hope is that she won't run into Hallie, the girl she befriended the last time she was in the Hamptons. The girl who's life she'd tried and possibly succeeded in ruining.
This book was really fun, it's the perfect summer read and I really enjoyed it. This book is full of cringe-worthy moments, moments that make you laugh, and of course, sweet revenge. There's also a few secrets to make it even more interesting.
A Few Of My Favorite Things:
- Revenge. The revenge aspect of this book was definitely the best part, you have all of Gemma's history with Hallie and all the bad things she did and then you have her trying to fix it and the whole time you're waiting for the other shoe to drop and when it does... It's so much better and worse than you thought it was going to be.
- Gemma. At first I wasn't a fan of the main character, she was way too dependant on Teddy, building her whole life around him and insisting that he's perfect. Then you find out all that she did that summer five years ago, and it's like, wow. That's evil. Even still, through all the mistakes she continues to make, she really grew on me. I think some people might still find her to be nothing but selfish(which I definitely felt that way a bit at the end) but I still really grew to like her.
Not So Favorite Things:
- The past. It was all very interesting, everything Gemma did, but I wanted the book to focus a little more on it. It's like Gemma was constantly telling herself that it, everything she was doing was about Hallie, but it always seemed like a lie.
- The ending. So, of course, it's an open ending. There's going to be two more books(which, really? I can see one more, but two!?), but the end was a little too short. The big reveal, while a tad bit shocking(not because I didn't see it coming but because it was even more than I'd thought, even bigger) was very short. And it seemed to revert to Gemma being selfish and only thinking of herself.
Overall:
I found this to be a really enjoyable, fast-paced, easy read, and will definitely continue with the series.
Would I Recommend This? Yes.
Who To? People looking for a fun summery contemporary
Will I read more from this author(or series)? Yes.
What's your take on revenge plots in contemporary, yay or nay? I.e. Do you find that a lot of the time they're immature?
Personally, I love revenge in a book even if it means that most the time it leads to bad things for the characters.