Who's The Fairest Of Them All?
Not Levana Never Levana
There will be NO spoilers in this review for any books in the Lunar Chronicles series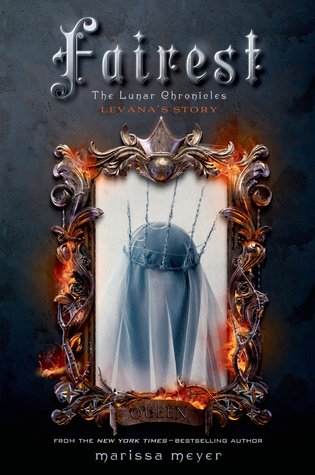 Fairest
by Marissa Meyer
Release date: Jan, 27, 2015
Genre: YA Retalling
Goodreads Link
Description -
In this stunning bridge book between Cress and Winter in the bestselling Lunar Chronicles, Queen Levana's story is finally told.
Mirror, mirror on the wall,
Who is the fairest of them all?
Fans of the Lunar Chronicles know Queen Levana as a ruler who uses her "glamour" to gain power. But long before she crossed paths with Cinder, Scarlet, and Cress, Levana lived a very different story – a story that has never been told . . . until now.
Marissa Meyer spins yet another unforgettable tale about love and war, deceit and death. This extraordinary book includes full-color art and an excerpt from Winter, the next book in the Lunar Chronicles series.
My Rating:
3 stars: A solid book I just didn't love it.
My brief synopsis:
If you don't know this is Lunar Chronicles book 3.5 but it's basically a prequel all about the resident evil queen, Levana. It tells you all you ever wanted to know and more about Levana. This is the story of how she became the evil queen and how she came to rule Luna. It not only reveals Levana's past but pieces of Cinder's and Winters too. Not to mention sheds a new light on Luna and helps to explain how things escalated so much with the war with Earth.
Review:
Honestly, I was kind of disappointed. Not really by the author, the writing was top notch as always and I did love getting but into this world again, but by the story itself. It was dark and depressing and that was probably the only way it could be but I couldn't really love this book and I couldn't really bring myself to enjoy it.
It starts out when Levana is about 15 years old and I felt very sympathetic to
her
and I was really enjoying the story and seeing more about her and I started to understand her more and I liked the book but then it goes downhill.
I don't think I've ever felt so much I sympathy for a character and I loved this book for that. I really loved reading about how Levana became Levana, how she became evil
AT FIRST
. I loved that while the author makes you feel sympathy for her she never tries to deny that Levana is evil and has been that way for a long time. She shows how she got that way without letting her off the hook for being evil. But then, I lost all sympathy for Levana and in the end I didn't hate her, I didn't sympathize with her, and I felt like I understood her character even less.
I did loved getting to see more of Luna and their world, and the beginnings of all the things that lead into Cinder. But, there really wasn't a lot of that, I mean there didn't have to be, this is Levana's story, but it was kind of the best part and there wasn't a lot of it.
I was kind of uneasy about this book, I thought maybe it wouldn't be necessary to the overall story, and I still kind of feel that way. It really gives you a great insight into how everything ends up the way it does in the start of Cinder not just how Levana got to be the way she is but how the war got so escalated and everything and I liked that but in the end, I kind of wished I hadn't read this...
I'm just conflicted on how I
feel
about the book. Characters are a big part of any book and while it's impossible not to feel some sympathy for Levana it's also hard not to find her evil and nasty, which she's supposed be! I just don't know that this was a book I
needed
to read, some characters should stay a bit mysterious and I feel like I got to know Levana too well and while I used to love her as a villain now I feel like I know even less about her and her motivations rather than more.
I'm very very conflicted.
Basically, while this book was good I feel like it was unnecessary. I both feel like I understand Levana less than ever and that I know way more than I needed to about her.
Would I Recommend This?
? Yes.
Who To?
Anyone who loves the series.
Will I read more from this author(or series)?
Of course! This was a little disappointing but doesn't change my love for the series as a whole.
Do you think it's possible to know too much about a villain and their motives? And while we're on the topic, who's your favorite villain?