Song Of The Moment- Coming For Youby The Offspring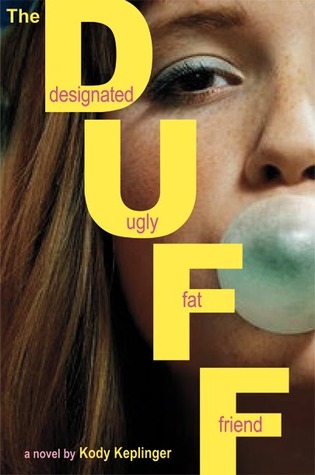 The DUFF
by Kody Keplinger
Release date: 2010
Genre: YA Contemporary
Goodreads Link
Description -
Seventeen-year-old Bianca Piper is cynical and loyal, and she doesn't think she's the prettiest of her friends by a long shot. She's also way too smart to fall for the charms of man-slut and slimy school hottie Wesley Rush. In fact, Bianca hates him. And when he nicknames her "the Duff," she throws her Coke in his face.
But things aren't so great at home right now, and Bianca is desperate for a distraction. She ends up kissing Wesley. Worse, she likes it. Eager for escape, Bianca throws herself into a closeted enemies-with-benefits relationship with him.
Until it all goes horribly awry. It turns out Wesley isn't such a bad listener, and his life is pretty screwed up, too. Suddenly Bianca realizes with absolute horror that she's falling for the guy she thought she hated more than anyone.
My Rating:
Review:
Okay, so...I had issues reviewing this book. I wasn't going to at first because I'm really conflicted and didn't really think I had much to say about it but...I'll give it a try anyway. Let's go for short and sweet!
A Few Of My Favorite Things:
- The uniqueness of it. This book is really unique and refreshing. Bianca is such a cynical character with one of the most unique voices I've ever read. She's a misfit and she owns it, she's fine being her cynical self and even when the name DUFF bothers her, she refuses to change because of it.
- Bianca. I both loved and hated this character. I loved her because she's unique and doesn't care what people think of her but will defend and fight for her friends and family if it's someone judging them. She's...spunky, and personality wise, I really related to her.
- Jess/Casey - I loved Bianca's best friends. They were awesome and so much fun. I wish they'd been a bigger part though.
- Wesley Rush. I hated him. I despised him. I loved him. Basically, everything Bianca felt for him. This author definitely has talent when it comes to making you feel for her characters.
- The writing. It's such fast paced fluid writing, where Bianca's voice comes out in every single word.
A Few Of My Not So Favorite Things:
- Their relationship. This is my biggest problem with this book and, let me say right here, this is strictly personal preference, it's not really a fault of the book and is strictly my personal opinions and preferences. How to say it? Their whole relationship(and the book in general) is based off a purely..physical relationship. Now, it does grow to be swoon-worthy, and I grew to love them, but, I don't like that in a book. Now, this didn't really hindered my enjoyment of the book(for the most part), had I known about it though, purely because I'm a slight prude when it comes to this kind of stuff, I probably wouldn't have read it, which is why I mention it.
- Bianca. I liked her, I did. But she made so many stupid decisions. Sure, she's human, she can make mistakes, and I understood all of them about her dad and family situation. I did not like her decision to repeatedly sleep with Wesley, lie to and abandon her friends, and then in the end she suddenly
(
hold on, SPOILER ALERT, status: minor)
has this big revelation that
oh. I'm stupid. I could've of gotten pregnant. Dumb, Bianca, don't sleep with Wesley or anyone anymore.
Like...what? It took you that long to figure this out!?
Overall.
I really did enjoy this book, it was lots of fun and a really quick read. Most of what I had a problem with, again, comes down to my personal feelings on these subjects. However, I loved the writing, I loved Bianca, and yeah. I definitely recommend it, and even though I've heard the movie is quite a bit different than the book I look forward to seeing it.
Would I Recommend This? Yes.
Whom To? Contemporary fans, and people who love a good cynical character.
Will I read more from this author(or series)? Yeah, definitely.