Song Of The Moment- I Knew I Loved You by Savage Garden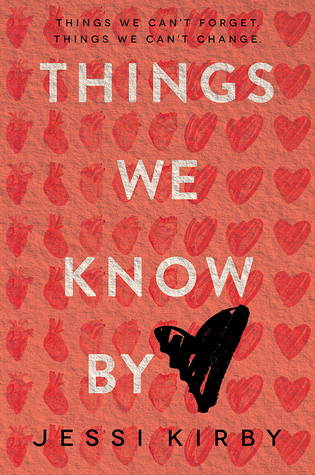 Things We Know By Heart
by Jessi Kirby
Release date: April 21st, 2015
How I got it - Review copy from publisher through Edelweiss
Genre: YA Contemporary
Goodreads Link
Description -
When Quinn Sullivan meets the recipient of her boyfriend's donated heart, the two form an unexpected connection.
After Quinn loses her boyfriend, Trent, in an accident their junior year, she reaches out to the recipients of his donated organs in hopes of picking up the pieces of her now-unrecognizable life. She hears back from some of them, but the person who received Trent's heart has remained silent. The essence of a person, she has always believed, is in the heart. If she finds Trent's, then maybe she can have peace once and for all.
Risking everything in order to finally lay her memories to rest, Quinn goes outside the system to track down nineteen-year-old Colton Thomas—a guy whose life has been forever changed by this priceless gift. But what starts as an accidental run-in quickly develops into more, sparking an undeniable attraction. She doesn't want to give in to it—especially since he has no idea how they're connected—but their time together has made Quinn feel alive again. No matter how hard she's falling for Colton, each beat of his heart reminds her of all she's lost…and all that remains at stake.
I received this book from the publisher through Edelweiss to review honestly
My Rating:
Review:
I'm conflicted. It seems I've been saying that a lot recently in my reviews, but that's how a feel. Sadly this is one of those books that is just kind of meh, it's good, not great, I like it and don't hate it, it also happens to be the hardest kind of book to review.
I had fairly high expectations of this book, I read
In Honor
by this author a few years ago and loved it. Besides that, the premise of this book is so promising. It sounds kind of heartbreaking and hopeful at the same time, I just don't think the characters and plot were developed enough for it to make a bigger impact.
This book follows Quinn whose boyfriend, Trent, died just over a year ago. When he died his organs were donated and now Quinn feels like if she can just meet the recipients then she'll finally be able to move on. However, the last recipient never replies, the recipient of his heart. So Quinn takes it upon herself to track him down planning on just seeing him, not meeting, not talking, however things happen and she does meet him and everything explodes after that.
I really loved the beginning of this book, it was a perfect set up for what I was excepting to be a slightly heartbreaking story of loss and learning to love again but, as I've seen a few other reviewers mention, it focused too much on the romance. You have both Quinn and Colton(the heart recipient) who've had some bad things happen to them but that was all pushed aside and forgotten for the most part.
Let's Discuss:
Characters - I feel like the characters never met their full potential. Quinn was an awesome, clumsy and hurting character and I wanted to see her being strong and overcoming her loss, but instead she kind of just replaced Trent and it just never felt like she really got over him or maybe it was too sudden that she was suddenly over him? And Colton too, could have been so much more. I loved him, he was a great character but he could have been an epic character with a little more development.
Side characters - The side characters were definitely the best. I loved Quinn's grandmother she was hilarious, but I still wanted to see a little more or her because she was kind of the best character. I also loved Ryan(Quinn's sister) but again, I would have liked to see more of her.
Plot - The book was really fast paced and it just didn't feel like there was a ton of plot. It never felt like anything much happened, you get flashbacks of Quinn and Trent, you get these moments of Quinn and Colton getting to know each other, and then these moments of Quinn falling apart, but it never comes together quite enough.
Overall
: It just never felt like not much happened in this book, like all the way up to the end I was waiting for it to get to the interesting moments, the wow and dang moments, for the story to pick up and things to actually happen. Yes, I know this is contemporary not fantasy, but mostly I was waiting for the real emotions to come and they never did. This was a good quick read, but it leans more towards the fluffy side of the spectrum than the serious side. Don't get me wrong, I enjoyed this book I just don't think it lived quite up to it's potential.
Would I Recommend This?
Yes.
Who To?
Anyone looking for a quick contemporary read.
Will I read more from this author(or series)?
Yes, I still love this author.
Are underdeveloped characters ever a deal-breaker for you? They can be for me
.