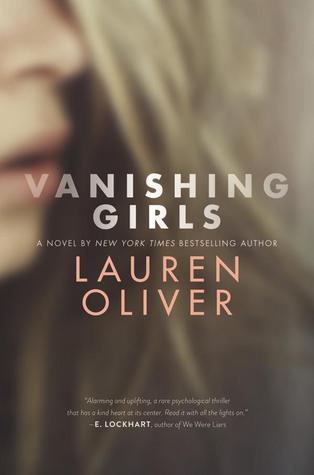 Vanishing Girls
by
Lauren Oliver
Release date: March 10, 2015
How I got it - Review copy from Edelweiss
Genre: YA Contemporary
Goodreads Link
Description -
New York Times bestselling author Lauren Oliver delivers a gripping story about two sisters inexorably altered by a terrible accident.
Dara and Nick used to be inseparable, but that was before the accident that left Dara's beautiful face scarred and the two sisters totally estranged. When Dara vanishes on her birthday, Nick thinks Dara is just playing around. But another girl, nine-year-old Madeline Snow, has vanished, too, and Nick becomes increasingly convinced that the two disappearances are linked. Now Nick has to find her sister, before it's too late.
In this edgy and compelling novel, Lauren Oliver creates a world of intrigue, loss, and suspicion as two sisters search to find themselves, and each other.
I received this book from the publisher through
Edelweiss
to review honestly
My Rating:
3 stars: I liked it, it was just missing that WOW factor for me.
Review:
This is a hard review for me to write for two reasons: because I love Lauren Oliver and because I'm really not sure at all how I felt about this book. I know I didn't hate or dislike it, but I also know that I didn't really love it. But honestly? I'm having issues coming up with reasons why I didn't love it. Also, that ending? It just threw all my feelings out of wack!
This book follows Nick and Dara, sisters who have always been close while both secretly resenting the other. After they got into a car accident that left Nick without a scratch but Dara scarred, they stopped talking. Nick is desperate to get her sister back and to remember everything that lead to the accident and just what happened.
A Few Of My Favorite Things
:
- Nick and Dara. I loved both characters, as always with Lauren Oliver, they are both such unique and vivid characters. They both have their faults and flaws and problems, but they're also both strong in their own ways and no matter what they're tied by their bond as sisters. They were probably my favorite thing about the book and had I not liked and appreciated them as characters I probably would have hated the book.
- Plot. It definitely has a very intriguing plot that keeps you on your toes until the end. It's very fast paced, and at moments it felt like nothing much was happening, but I never wanted to put it down.
- The writing. Again, in usual Lauren Oliver style the writing was amazing.
- The ending and the twists. The ending was something I wasn't expecting and I loved it, however, at the same time it was just so sudden(which was great because it meant I didn't see it coming) that I kind of felt like it was just thrown at me and it left me feeling like it was just something totally random, it didn't feel...complete.
A Few Of My Not So Favorite Things
:
- Lack Of Suspense. With the intriguing plot, all the secrets, and unknown things that you're just waiting find out, I'd expect a lot of suspense. I didn't feel it though. Yes, I was intrigued and hooked enough to want to know
all
the answers, but I thought there was a big lack of suspense when it came the biggest twist of the story.
- The "romance" and relationships. There was basically no romance, which was good because this story is about sisters first and everything else second, but I didn't connect at all with the romance that was there. Again, that's fine because it means the romance doesn't take away from the more important parts of the plot. But, I didn't like or connect to any of the relationships. Dara and Nick, Nick and Parker, Dara and Parker, all three of them. Honestly, my favorite relationship was Dara and Ariana(her old best friend) a relationship that was barely part of the story.
Overall: I guess my biggest problem with the book is that it didn't feel like it came together all the way in the end. I mean, yeah, everything tied together but I just felt like I was still waiting to fall in love with the story, with the plot and characters. I just didn't connect to any part of this story. In the end, I enjoyed it, it was a fast read, I just didn't love it. It ended up being one of those books that falls flat, I don't hate it, I don't love it, basically it didn't inspire any real feelings beyond impatience to know what was going on.
Would I Recommend This?
Yeah.
To Whom?
Lauren Oliver fans?
Will I read more from this author(or series)?
Of course. I haven't had the best of luck with her contemporaries but I still love this author.