Song Of The Moment- Go Go Go by Sleeping With Sirens
Hold Me Closer: The Tiny Cooper Story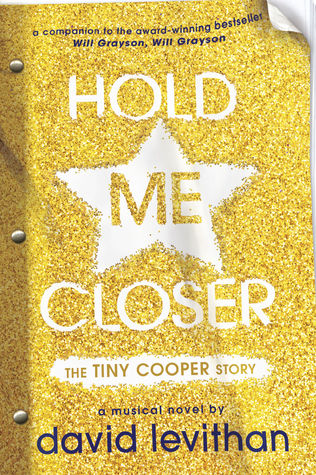 by David Levithan
Release date: March 17, 2014
Genre: YA Contemporary
Goodreads
/
Amazon
Description -
It's Tiny Cooper's turn in the spotlight in this companion novel to New York Times bestseller Will Grayson, Will Grayson.
Jazz hands at the ready! Tiny Cooper ("the world's largest person who is also really, really gay") stole readers' hearts when he was introduced to the world in the New York Times bestselling book Will Grayson, Will Grayson, co-authored by John Green and David Levithan. Now Tiny finally gets to tell his story—from his fabulous birth and childhood to his quest for true love and his infamous parade of ex-boyfriends—the way he always intended: as a musical! Filled with honesty, humor, and "big, lively, belty" musical numbers, the novel is told through the full script of the musical first introduced in Will Grayson, Will Grayson.
My Rating:
5 Stars.
Initial Reaction:
Review:
So, if you've read Will Grayson, Will Grayson than you know that Tiny Cooper is one of the best characters ever. He's funny and sweet, he knows who he is and isn't afraid to show it, and he wrote a play about his life... So, In Will Grayson, Will Grayson Tiny Cooper's play is constantly mentioned, it's a huge part of the plot and it's so much fun to read about in that book and then you have this musical play/book hybrid that's actually Tiny Cooper's play! Basically, this book is just a lot of fun and anyone who read Will Grayson, Will Grayson, whether you liked the book or not, if you liked Tiny Cooper you must read his story.
A Few Of My Favorite Things:
- The references! Seriously, all over the place. References to Harry Potter(in song form), High School Musical, Blink-182(I don't remember what exactly I loved about this one but it made me very excited), and more.
- The songs. They were so outrageously funny yet meaningful at the same time.
- Tiny Cooper. He just has a strong, brilliantly funny, voice.
- The whole thing is basically a musical...it doesn't get better than that.
- Tiny Cooper's real name! It's in the end of the book and it took me an embarrassing long time to figure out that's what it was. But...excitement!
Overall: Um...so, I kind of loved this. I read this book in under two hours while sitting in a waiting room and I got so many weird looks because, even though I tried to contain my laughter and stop smiling quite so widely, it never seemed to work. Basically, if you read Will Grayson Will Grayson, and no matter what you're feelings on the book were as long as you loved Tiny Cooper, read this.
Would I Recommend This?
Yup.
Whom To?
People looking for a fun read whether you've read Will Grayson, Will Grayson or not.
Will I read more from this author(or series)?
Yup.