Song Of The Moment- November by Sleeping With Sirens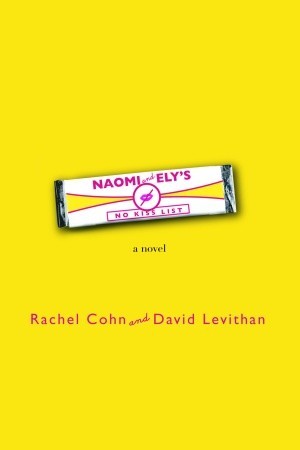 Naomi and Ely's No Kiss List
by Rachel Cohn, David Levithan
Release date: August 2007
Genre: YA Contemporary
Goodreads
/
Amazon
Description -
The quintessential Girl-Likes-Boy-Who-Likes-Boys, from the New York Times bestselling authors of NICK & NORAH'S INFINITE PLAYLIST!
Naomi and Ely are best friends. Naomi loves and is in love with Ely, and Ely loves Naomi, but prefers to be in love with boys. So they create their "No Kiss List" of people neither of them is allowed to kiss. And this works fine…until Bruce.
Bruce is Naomi's boyfriend, so there's no reason to put him on the List. But when Ely kisses Bruce, the result is a rift of universal proportions. Can these best friends come back together again? Or will this be the end of Naomi and Ely: the institution?
Told in alternating voices using an array of emoticons and symbols by co-authors Rachel Cohn and David Levithan, co-author of WILL GRAYSON, WILL GRAYSON with John Green (THE FAULT IN OUR STARS), NAOMI AND ELY'S NO KISS LIST is the ultimate offbeat love—and in love—story.
My Rating:
2 Stars - it was meh
Review:
I have mixed feelings on this book...
So, Naomi and Ely have been best friends forever, Naomi loves Ely, Ely loves boys. They have a very unique relationship and I was never quite sure whether Ely had always known Naomi loved him or not. So, the No Kiss List is a list they have of boys neither of them is allowed to kiss in case it might ruin their friendship and cause them to break up. Bruce #2, Naomi's boyfriend, was not on the list and Ely kissed him, leading to the big blow up that this book is.
My biggest problem with this book is I didn't like the characters all that much. I liked Ely more than Naomi, and he really grew on me as the book progressed, but I hated Naomi. Naomi is selfish and just mean, everything was her fault and she acted like it was the end of the world and all Ely's fault when she literally caused all the problems! She used people, mainly Bruce #1, and never really cared even when it was pointed out to her. My biggest problem with her is even though it was supposed to be that she has this big revelation towards the end and she's grown oh so much, I never felt like she grew or changed at all. Ely went through a lot of character growth and change throughout the book and it felt so much more real.
Side character wise, I feel like the book would have been so much better with more Bruce #1 and #2 chapters along with more Robin(male and female) chapters. The side characters were the best. You have Bruce #1 who's been in love with Naomi forever even though she's clearly not worth it. Bruce #2 who was dating Naomi but was never in love with her and is falling in love for the first time with another boy when he'd never before thought even for a second that he might be gay(or bi). Robin, the girl, and her relationship with Robin, the boy, was even more interesting than reading about poor Naomi this and poor Naomi that. Basically, the side characters were so much more interesting than the main. But even though I loved these characters the POV switches were kind of weird, I wanted more Robins and less Naomi, more Bruce #2 and less Ely. But all of them together and seemingly put in random spots? That got kind of boring at parts and confusing..
The plot(if that's what you can call it). So the whole book is based on the No Kiss List and the big fight that goes down once Ely kisses Bruce #2, and the problem I had with it was that the fight was too...weird. It was just a bunch of overreacting that never made even a little bit of sense. Yes, when it comes to fighting and relationships there's a lot of overreacting, but this never felt real at all, just like a stupid fight between five-year-olds.
The writing was really great though.
"I know I should just leave. Just go. Because there's a point where a mistake turns into a big mistake, and I should probably come to my senses before I get there."
"Please may this not be a game. Please may this not be a game. Because if it's a game, I know I'm going to lose."
"If we actually thought about every decision we made, we'd be paralyzed ... You have to decide which decisions you're actually going to make, and then you have to let the rest of them go."
"I would have always been the captain. But now you're in charge."
Overall: This was a fun enough book with some epic writing and brilliant side characters but my hate for Naomi and the vague stupidity of the overall plot(I.e. the fight and break up of the friendship) tainted my enjoyment. What mostly saved this book was Bruce #2, he was my favorite and I think it could have been so much better if he played a bigger part.
Would I Recommend This?
I wouldn't NOT recommend it...
Whom To?
People...
Will I read more from this author(or series)?
Yes! I still love both of these authors.