Song Of The Moment- Alone by From Thin Air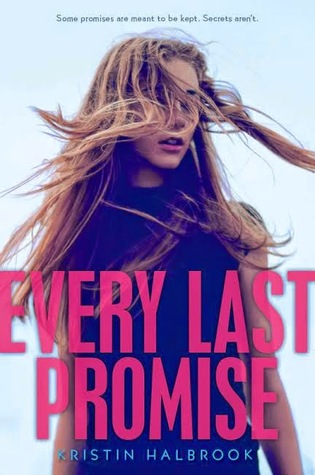 Every Last Promise
by Kristin Halbrook
Release date: April 21, 2015
How I got it - Review copy from Edelweiss
Genre: YA Contemporary
Goodreads Link
Description -
Perfect for fans of Laurie Halse Anderson and Gayle Forman, Every Last Promise is a provocative and emotional novel about a girl who must decide between keeping quiet and speaking up after witnessing a classmate's sexual assault.
Kayla saw something at the party that she wasn't supposed to. But she hasn't told anyone. No one knows the real story about what happened that night—about why Kayla was driving the car that ran into a ditch after the party, about what she saw in the hours leading up to the accident, and about the promise she made to her friend Bean before she left for the summer.
Now Kayla's coming home for her senior year. If Kayla keeps quiet, she might be able to get her old life back. If she tells the truth, she risks losing everything—and everyone—she ever cared about.
I received this book from the publisher through Edelweiss to review honestly
My Rating:
4 stars
Review:
I don't know how to feel about this book, how I feel about this book. Don't know how to review it, how to rate it, basically it's complicated. Because this is one of those books about one of those topics, subjects, real life cruelties, that has to be written about and has to be read but..you can't really love the book, you can't enjoy it. Maybe becuase it's too real? Maybe because it happens too often in real life and books are an escape? I don't know.
I don't know if I can call this a good book, was it well written? Yes. Was it very realistic and slightly annoying because people make stupid decisions in real life and how can you blame characters for making those same decisions? Yes. But to me when I call a book good it's because I enjoyed it, and whether it was fun or completely devastating I still loved reading it. I can't really say that about this book. Taking my own feelings out of the equation it is a good book, about a hard topic that was very well written, with a main character I kind of hated but couldn't completely hate because if she acted how I wanted her to act she wouldn't have been so real.
This is a book about a very hard subject, rape, and a girl who wants to protect her friends but also wants to protect her own beliefs. Kayla's grown up in this small town that she loves and while everyone else has been counting down days until they can finally leave, she wants to stay here for the rest of her life. Then she witnesses something she can't unsee, does something she can't undo but doesn't really regret, and she grows up without wanting to admit it to herself. She's a very flawed character, a very real character who loves her life and knows that by telling the truth she could be ruining her life, her family's lives, and her friends. There's nothing easy about this book, even the slight romance, and even though towards the end I was getting so tired of the same old same old with Kayla, just when she starts to make progress she goes back on everything, I think she's probably the most realistic character I've ever read, not my favorite but the most real.
I kind of wanted more from it though. I wanted more of the friendship between Kayla, Jen, Bean, and Selena. I wanted more...emotion I guess. The whole book is about Kayla wanting her life and her beliefs back, which I get and I loved and I liked that so much of it was about this town she loves. But I wanted more emotion at the same time, through the whole book Kayla is very self-involved and very high strung and real but at the same time I wanted to see more of her relationships and how this was effecting them.
Overall: Even after writing this review, that's admittedly kind of lame, I don't know how I feel about this book. I don't know how to describe it or if I recommend it. The book just is what it is, it's very short and full of very hard things, and I both hate and respect it.
Do you have a method for when you can't figure out what to say in a review? DO you just not review that book? I want to know!