Song Of The Moment- Something's Gotta Give by All Time Low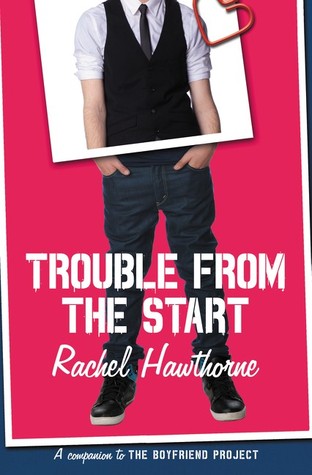 Trouble From The Start
by Rachel Hawthorne
Release date: April 28, 2015
How I got it - Review copy from Edelweiss
Genre: YA Contemporary
Goodreads Link
Description -
Perfect for fans of Stephanie Perkins, Lauren Barnholdt, and Susane Colasanti, Trouble from the Start is a sweet and romantic read about a good girl who falls for a bad boy.

Avery knows better than to fall for Fletcher, the local bad boy who can't seem to outrun his reputation. Fletcher knows he shouldn't bother with college-bound, daughter-of-a-cop Avery. But when their paths cross, neither can deny the spark. Are they willing to go against everything and let their hearts lead the way? Or are they just flirting with disaster?

A companion novel to Rachel Hawthorne's paperback original The Boyfriend Project, this title is perfect for fans of summer beach reads and sweet treats.


I received this book from the publisher through Edelweiss to review honestly.
My Rating:
4/5 stars
Review:
I admit, I procrastinated reviewing this... When that happens I have a heard time reviewing things so this will be short and to the point.
This book follows Avery, who is the good girl: good grades, good plan, good friends. And Fletcher who is basically the opposite but, of course, not everything is always what it seems. After she gets drunk at a party a week before graduation Fletcher ends up giving Avery ride a home and it's basically the first time Avery has noticed Fletcher. Every summer Avery's family invites a troubled kid into their house to live with them, usually someone young who hasn't had the best life, this year it's Fletcher.
I liked both Fletcher and Avery, in fact, Fletcher quickly earned a space in my top five book boyfriends. Because he's nowhere near as bad as he first seems and he's sweet and just...swoon. He's a very
real
character, flawed and full of real feelings and I basically loved him. Avery is awesome too but towards the end of the book I started to dislike her just a tad, she spends most the book trying to convince Fletcher to give them a shot and then she does stupid things. Obviously this book is mostly a love story, and I loved the romance, it wasn't rushed at all and it wasn't overly frustrating with both characters acting super stupid.
Trouble From The Start was a fairly fast-paced book with duel POVs, I did feel like Fletchers chapters were thrown in just because the author couldn't find a better way to show more about him. There weren't nearly as many Fletcher chapters as Avery, and they were always super short. Not exactly pointless but not quite needed either. I really enjoyed them, but it seemed mostly like a plot device to make sure you knew Fletcher was more than he seemed.
This book is also very much a coming of age story, you have Avery, who has always done whatever she can to make her parents proud without even realizing that sometimes that doesn't make her happy. I loved that Avery loved to learn and teach, she wasn't just a good girl because she thought her parents wanted her to be but because she generally likes learning and is just that way. Fletcher has some major family issues and his main thing is he doesn't think he deserves better, doesn't think he deserves to go to college and to have a good life. They help each other out and help each other grow even while spending a big part of the book ignoring each other.
The biggest downside, for me, was the side characters. I didn't really like the side characters. Marc and the girls Avery works with are probably the best and they're barely in it. Avery's best friend Kendall is kind of just a judgemental jerk and Jackson, her boyfriend, is apparently just perfect... Early on it's mentioned that the three of them were friends before Jackson and Kendall started dating and I would have liked to see Jackson and Avery's friendship more, I feel like it would've been more interesting. Kendall was just way too judgemental for me, I didn't like her at all and because of that I probably won't be reading the companion novel that's all about her.
Overall: This review was longer than I was planning... I really enjoyed this one, it's fun and fast. The perfect balance of fluffy and serious, which I love. Avery and Fletcher were both really great characters and there was a fair amount of swooning involved in my reading of this.
Would I Recommend This?
Yes.
To Whom?
Fans of fun, fluffy/serious YA contemporary.
Will I read more from this author(or series)?
Maybe.