Song Of The Moment- Runaways by All Time Low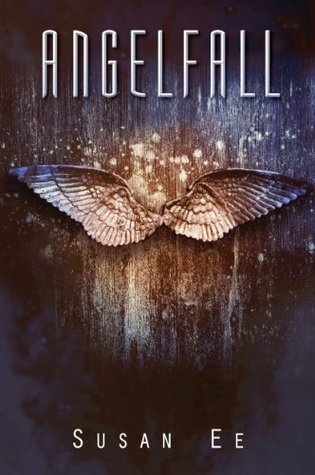 Angelfall
by Susan Ee
Release date: 2012
How I got it - Review copy from Netgalley
Genre: YA Dystopian/Fantasy/Parenormal/I'm not really sure how this is classified
Goodreads Link
Description -
It's been six weeks since the angels of the apocalypse destroyed the world as we know it. Only pockets of humanity remain.
Savage street gangs rule the day while fear and superstition rule the night.
When angels fly away with a helpless girl, her seventeen-year-old sister Penryn will do anything to get her back...
I received this book from the publisher through Netgalley to review honestly
My Rating:
3.5 stars
Review:
I wouldn't say I'm the black sheep when it comes to this book but maybe just a little...?
Okay, this will be a quick review because everyone has reviewed or at least it feels like it and by now you've probably already read it or at least ten reviews on it. Basically, angels have invaded and killed lots and lots of humans, and Penryn is a girl who is just trying to protect her family. When trying to get out of town and find a better place to hide out and live, Penryn, her mother, and her sister Paige who is in a wheelchair because of an incident with their crazy mom where she may or may not have crippled Paige, come across an angel fight. Wherein they see an angel(Raffe) getting his wings cut off. Stuff happens, Paige gets taken by the angels and Penryn ends up rescuing Raffe to use him to lead her to the angels so she can find Paige.
This book starts off really good, even before there's action(which isn't a long wait at all) I was hooked. Right away, it was interesting and just great. Penryn is an awesome main character who can kick some ass and has an awesome name. She'll do anything to protect her family, she hates the angels, she's also very smart and determined, she won't let anything distract her from her goal of saving Paige. That's probably what I liked most about her, there's no romance getting in her way, even when she finds a cause that she knows is worth helping she chooses Paige above it all. Raffe was pretty awesome too but I didn't...love him. I didn't dislike him either, mainly my feelings centered around neutral.
The writing is just as great, I loved the short chapters and the quick pace. The side characters were all great and altogether I didn't want to put this book down even though I had to multiple times. Which brings me to the end, now I will freely admit this might just be me and it might have to do with the fact that I could basically only read a chapter at a time(of like maximum 7 page chapters) so you know, I wasn't as IN to the story as I would have been had I read straight through, which I think hindered my enjoyment of the end. Basically, I just didn't feel invested in the ending, I felt like it should've been this huge thing, so much stuff is happening, there's twists and turns, and it should be awesome but....for me it didn't feel awesome.
Overall: I did really like this book. I think most my problems with it came from the ending and it was because I didn't read it all together so just when I'd get into it I'd stop reading and that's no fault of the books! There were some things that I just found weird and confusing, ie. basically everything that happened in the end. I'm still looking forward to the next one which I already have and hope to read in one go instead of the constant stopping.
Would I Recommend This?
Yes.
Who To?
The 3 people who haven't read it yet.
Will I read more from this author(or series)?
Yes.