Song Of The Moment- Sattelite by All Time Low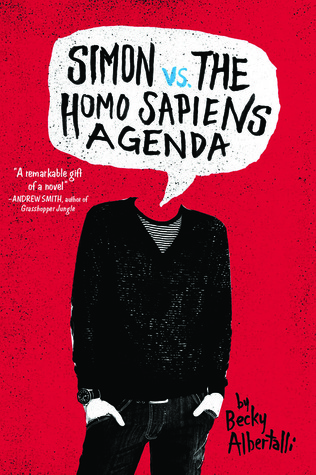 Simon vs. The Homo Sapiens Agenda
by
Becky Albertalli
Release date: April 7th, 2015
Genre: YA Contemporary
Goodreads Link
Description -
Sixteen-year-old and not-so-openly gay Simon Spier prefers to save his drama for the school musical. But when an email falls into the wrong hands, his secret is at risk of being thrust into the spotlight. Now Simon is actually being blackmailed: if he doesn't play wingman for class clown Martin, his sexual identity will become everyone's business. Worse, the privacy of Blue, the pen name of the boy he's been emailing, will be compromised.
With some messy dynamics emerging in his once tight-knit group of friends, and his email correspondence with Blue growing more flirtatious every day, Simon's junior year has suddenly gotten all kinds of complicated. Now, change-averse Simon has to find a way to step out of his comfort zone before he's pushed out—without alienating his friends, compromising himself, or fumbling a shot at happiness with the most confusing, adorable guy he's never met.
My Rating:
4 stars

Review:
Sooo...I've been looking forward to this book for a while, I try to stay away from hype heavy reviews but I heard some about this still and it just sounded really good and perfect for me in general. I wanted to love this book and I really did but it's...complicated and I don't really know why.
Simon Spier is gay, he's also not out yet. Simon's been emailing back and forth with another not so openly gay kid from his class for a few months now and he really thinks he might be falling for him. Then Simon leaves his email account open on the school computer and Martin sees it and decides to blackmail him into helping Martin get a date with Simon's friend Abby. Chaos and drama ensue.
I really liked this book, I loved the sort of mystery surrounding who Blue is. I had multiple guesses and had guessed the real one early on, but I still kept doubting it. I loved that Simon didn't want to make a big deal out of coming out, and his insistence that everyone should have to come out, there should be no default. You get to know Blue through emails alone which I thought was very well done, but he's not revealed until the very end and I wanted a bit more of him in real life.
I loved the side characters but sadly I think it was one of those cases where the side characters weren't present enough despite how awesome they were. I loved Simon's friendships, especially with Leah but that just made me hate him a bit when he started treating her like crap, which he did and I hated. Simon's sisters and family were also great characters, his parents were actually present throughout the book. I wanted more Nora(Simon's younger sister), I think mostly because I'm pretty sure she was me in book form. Still, despite wanting more from the side characters they were all really well written and each clearly had their own personalities.
The writing was sadly nothing spectacular, there's a few really quotable lines but the writing overall was kind of annoying. I'm all for different writing styles and using different sentence structure to show character, but the constant never ending sentence fragments were hard to get used to and very distracting, for me at least.
Simon has a small lack of personality, in my opinion. He's in drama, he's in the school play, he has lots of friends, friends who are soccer players, and cheerleaders, and the really awesome girl who's kind of a loner, he loves music but... These are all just facts I know about him. I never even knew why he was in play, does he love drama? Has he done it before? I don't know. Sometimes he was stupid, which is fine, real people are stupid sometimes too! But also he was just mean and unlikable at times. I did connect to him though, him and his "Simion logic" that sounds
extremely si
milar to my own logic, and all the times he did or said stupid things he immediately regretted, I can connect with that. I was rooting for him the whole time, but I can't say I loved his character and I'm still not completely sure why.
Overall: Simon Vs. the really long title was a really good book with great characters that I just don't think were explored as much as they could've been. However, the underlying message, which includes that being gay shouldn't be a big deal, that everyone should have to come out and there should never be a default - for sexuality or race or anything - kind of overrides everything and just makes me happy to read all about it.
Would I Recommend This?
Yes.
To Whom?
Someone looking for a fun easy YA contemporary. Also, to fans of One Man Guy by Micheal Barakiva.
Will I read more from this author?
Probably.