When one of your favorite books goes on sale and you can bug all your friends to buy it:
I read Grunge Gods and Graveyards about a year ago and absolutely loved it!
My review here
. The author, Kimberly has a new book coming out that is sorta like a companion novel to Grunge Gods and Graveyard called The Lady In Blue, I will put all the information below but basically THIS IS AN AWESOME BOOK AND YOU SHOULD BUY IT BECUST IT'S ONLY 99 CENTS TODAY.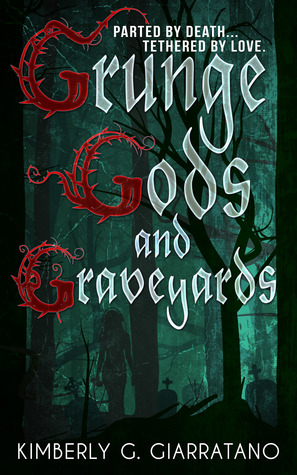 Parted by death. Tethered by love.
Lainey Bloom's high school senior year is a complete disaster. The popular clique, led by mean girl Wynter Woods, bullies her constantly. The principal threatens not to let her graduate with the class of 1997 unless she completes a major research project. And everyone blames her for the death of Wynter's boyfriend, Danny Obregon.
Danny, a gorgeous musician, stole Lainey's heart when he stole a kiss at a concert. But a week later, he was run down on a dangerous stretch of road. When he dies in her arms, she fears she'll never know if he really would have broken up with Wynter to be with her.
Then his ghost shows up, begging her to solve his murder. Horrified by the dismal fate that awaits him if he never crosses over, Lainey seeks the dark truth amidst

small town

secrets, family strife, and divided loyalties. But every step she takes toward discovering what really happened the night Danny died pulls her further away from the beautiful boy she can never touch again.
Buy it!
Amazon
/
B&N
/
Apple
/
Google Play
/
Kobo
Find it on Goodreads!
About the author:
Kimberly G. Giarratano, a forever Jersey girl, now lives in the woods of northeastern Pennsylvania with her husband and small children. A former teacher and YA librarian, Kimberly adores Etsy, Jon Stewart, The Afghan Whigs, '90s nostalgia, and (of course) everything YA. She also speaks Spanish, but is woefully out of practice.
Kimberly always dreamed of being a published author. Her other dream is to live in Key West, Florida where she can write in a small studio, just like Hemingway.
Author links:
Website
/
Facebook
/
Twitter
/
Goodreads
THE LADY IN BLUE
The Lady in Blue stole a car and fled Ash.
Out on Devlin Road she emerged from a crash.
She wandered the woods with her head dripping blood.
Then drowned in the river in water and mud.

All her life criminology student Liz Bloom has heard this rhyme, meant to scare young campers. When she's about to take on her first cold case, Liz learns the eerie song is about her great aunt Lana. Liz isn't big on studying, but she does have one advantage most criminologists don't -- she can speak to the dead.
In 1955, Lana Bloom was an eighteen-year-old beauty with Hollywood dreams who fell in love with a stranger. When Lana died in a bloody car crash, all signs pointed to the mysterious man who was never seen again.

As Lana unravels the details surrounding her last week of life, the tale she weaves for Liz is one of desire, betrayal, and murder. But if Lana can't identify her killer, not only will a murderer escape punishment, but her ghostly form will cease to exist. And Liz will have failed the most important assignment of all – family.