A pre-review is a new feature here where I post small snippets of my reviews of books that don't come out for months. This is meant mostly to help promote new releases that I won't be posting my full review of until closer to release date. A way to hopefully help build excitement for some of my favorite new releases before I forget why I loved them! Pre-reviews are limited to one paragraph or simply gifs that reveal all my feels.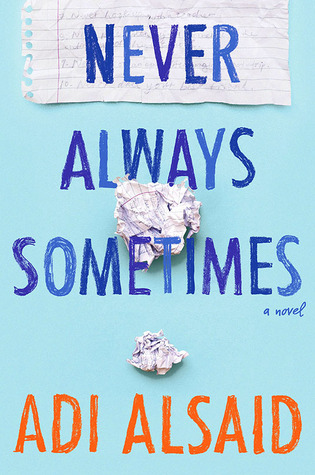 Never Always Sometimes
by Adi Alsaid
Expected Release date: August 4, 2015
Format: ARC
Genre: YA Contemporary
Goodreads Link
Never date your best friend
Always be original
Sometimes rules are meant to be broken
Best friends Dave and Julia were determined to never be cliché high school kids—the ones who sit at the same lunch table every day, dissecting the drama from homeroom and plotting their campaigns for prom king and queen. They even wrote their own Never List of everything they vowed they'd never, ever do in high school.
Some of the rules have been easy to follow, like #5, never die your hair a color of the rainbow, or #7, never hook up with a teacher. But Dave has a secret: he's broken rule #8, never pine silently after someone for the entirety of high school. It's either that or break rule #10, never date your best friend. Dave has loved Julia for as long as he can remember.
Julia is beautiful, wild and impetuous. So when she suggests they do every Never on the list, Dave is happy to play along. He even dyes his hair an unfortunate shade of green. It starts as a joke, but then a funny thing happens: Dave and Julia discover that by skipping the clichés, they've actually been missing out on high school. And maybe even on love.
I received this book from the author to review honestly
This book is fun and at first glance may appear to be a simple light and fluffy read but it's more than that. The emotions and characters in Never Always Sometimes are extremely, incredibly REAL(and slightly heartbreaking). Feels abounded in this book partly because of the great characters and partly because of the great writing. I thought I had it all figured out half way through, but then there were twists! Twists that made me FEEL(mostly angry at the author for making me ship so many different people and then kept sinking them). Basically, I loved this, you should read this.
Recommended to:
Fans of Eleanor and Park by Rainbow Rowell for the emotions. Feeling the feels only reminded me of the way that book made me feel.
Full review to come!
What do you think of this new feature? Be honest!