Song Of The Moment- Go Go Go by Sleeping With Sirens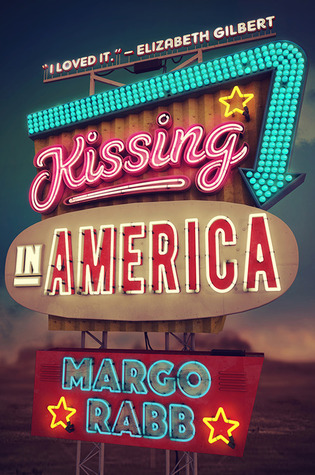 Kissing In America
by Margo Rabb
Release date: May 26th, 2015
Format: ARC
Genre: YA Contemporary
Goodreads Link
"Wise, inspiring, and ultimately uplifting—not to be missed."—Kirkus Reviews, starred review
"A hilarious, thought-provoking, wrenching, and joyful quest."—Publishers Weekly, starred review
"Authentic and complex…This is a smart teen's novel."—Booklist, starred review
Acclaimed writer Margo Rabb's Kissing in America is "a wonderful novel about friendship, love, travel, life, hope, poetry, intelligence, and the inner lives of girls," raves internationally bestselling author Elizabeth Gilbert (Eat, Pray, Love).

In the two years since her father died, sixteen-year-old Eva has found comfort in reading romance novels—118 of them, to be exact—to dull the pain of her loss that's still so present. Her romantic fantasies become a reality when she meets Will, who seems to truly understand Eva's grief. Unfortunately, after Eva falls head-over-heels for him, he picks up and moves to California without any warning. Not wanting to lose the only person who has been able to pull her out of sadness—and, perhaps, her shot at real love—Eva and her best friend, Annie, concoct a plan to travel to the west coast to see Will again. As they road trip across America, Eva and Annie confront the complex truth about love.

In this honest and emotional journey that National Book Award finalist Sara Zarr calls "gorgeous, funny, and joyous," readers will experience the highs of infatuation and the lows of heartache as Eva contends with love in all of its forms.
I received this book from the publisher through Edelweiss to review honestly
My Rating:
3 Stars

Review:

Eva's in love with a boy named Will, who, right when things start working out between them, moves across the country. Eva knows that if she can just see Will again everything will be okay, her worries about her mom remarrying, and all her unresolved issues with her dad's death won't matter so much. But how is she supposed to get all the way across the country to see him again?

First of all, I feel like the title and description, and even the cover, of this book are very misleading. It doesn't have much at all to do with "kissing in America". That's not to say that it wasn't a good book just that I feel the cover is a lie.

This review really comes down to one thing and that's that this was a good book but not a great book.


What it comes down to with this book is the characters. I loved all the side characters, Annie(the best friend) and Lulu(the basically aunt) most of all, but I had some issues with Eva. Mainly, that she seemed so immature and naive. That's how she was supposed to be, her dad died two years ago and she has issues coming to terms with everything. Okay, makes sense, that's fine. It's just I never felt like I connected with her. I didn't outright hate, or even dislike her but I didn't like and relate to her either.
The road trip aspect to this book was great, it's one of my favorite things, but at the same time it was kind of smashed down and pushed to the side of Eva's constant monologue over Will. I would have liked to get the road trip aspect a lot more, it was more like "oh we were on the bus for twelve hours stopped here, are near that, now let's spend one short boring day in this town and repeat the same thing in the next chapter". I guess when it came to the road trip, it was too much telling not enough showing for me. I wanted to see Annie hanging out with Chance since her, barely mentioned, romance was the most swoony one in the book.
I also would have liked a little more development of Will's character, maybe then it wouldn't have seemed so childish for Eva to be going across the country to see him. Instead, we barely know anything about him and it seems beyond naive for her to go through so much trouble to see him again.
In the end this was a good book about family and friendship and grief and loss, it wasn't a book about kissing in America, but it was still a good book. Mostly, I found it to be kind of slow and boring because I never connected with Eva which always makes me feel disconnected from the whole story, but is not necessarily the book's fault. I do recommend it because it was more of a not my cup of tea thing than anything else.
About the Author:
Margo Rabb is the author of the novels Kissing in America and Cures for Heartbreak. Her essays, journalism, book reviews, and short stories have been published in The New York Times, The New York Times Book Review, The Atlantic, Slate, The Rumpus, Zoetrope: All-Story, Seventeen, Best New American Voices, New Stories from the South, One Story, and elsewhere, and have been broadcast on NPR. She received the grand prize in the Zoetrope short story contest, first prize in the Atlantic fiction contest, first prize in the American Fiction contest, and a PEN Syndicated Fiction Project Award. Margo grew up in Queens, New York, and has lived in Texas, Arizona, and the Midwest; she now lives in the Philadelphia area with her husband and children.