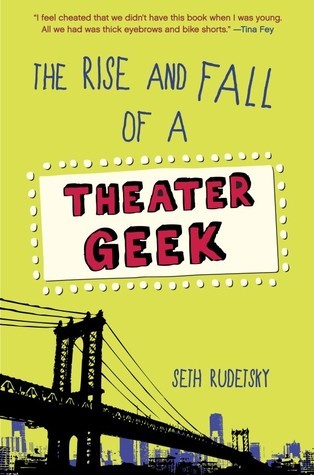 The Rise and Fall Of A Theater Geek
by Seth Rudetsky
Release date: June 23rd, 2015
Format: ARC
Genre: YA Contemporary
Goodreads Link
Broadway, New York.
The shows, the neon lights . . . the cute chorus boys! It's where Justin has always wanted to be--and now, with a winter internship for a famous actor, he finally has his chance to shine. If only he could ditch his kind, virtuous, upright, and--dare he say it?—uptight boyfriend, Spencer. But once the internship begins, Justin has more to worry about than a cramped single-guy-in-the-city style. Instead of having his moment in the spotlight, he's a not-so-glorified errand boy. Plus, Spencer is hanging out with a celebra-hottie, Justin's best friend Becky isn't speaking to him, and his famous actor boss seems headed for flopdom. Justin's tap-dancing as fast as he can, but all his wit and sass might not be enough to switch his time in New York from nightmare-terrible to dream-come-true terrific.
Seth Rudetsky's second YA novel is endearingly human, laugh-out-loud funny, and for any kid who's ever aspired to Broadway but can only sneak in through the stage door.

*I received this book from the publisher through Netgalley to review honestly
My Rating:
Review:
This book follows Justin, a broadway loving high school student who gets an internship with one of his favorite actors in New York. I don't honestly remember how old Justin is...fifteen or sixteen? He acted more like he was twelve. Before starting his internship, he decides he should take a break from his relationship with his boyfriend, Spencer. Not a break up just a break-ish up. Until Spencer beats him to it, then it's not so okay. During the curse of his first day, which he imagines should end with him on broadway helping his favorite actor, he spends the day running around doing errands, never even sees the stage, and gets into a big fight with his best friends, Spencer and Becky. Things escalate from there.
There's a new boy who Justin never really likes that much, just wants use to make Spencer jealous. A mystery revolving around Chase(the famous actor) and his manager, and some funny moments? Overall this is a really fun book but it's very...immature, Even though it's marketed as YA contemporary it reads more like a middle grade contemporary.
A Few Of My Favorite Things
:
- The mystery. The mystery aspect was really fun. Justin has to uncover just what is going on with the show where his idol, Chase, seems to be purposely failing at everything he tries to do.
- The LGBT theme. I love any book with an LGBT theme and this author did such a good job with it, I loved how Justin was always so confident about who he is.
- The setting. New York, Broadway, I love love love books with drama and acting themes and even with all of Justin's immature-ness(is that a word?) I still loved this setting.
A Few Of My Not So Favorite Things:
- Justin. I admired Justin for being completely one hundred percent happy with who he was, but he was selfish and immature and all around annoying.
- The Whole Plot Was Immature. Did I say plot? I meant book. It's not that that is such a bad thing just that this book is really for a younger audience, unfortunately the one thing I can't get over in contemporary books is so much immaturity.
Overall: This book was good, just too immature for my liking. I wanted to love it and I did have fun reading it, it just wasn't quite what I was expecting. I could never take Justin seriously, he was so selfish and immature and I literally can't come up with another word to describe him. That kind of hindered my overall enjoyment of the book. It wasn't bad by any means, just not for me.
Would I Recommend This?
Probably.
Who To?
Fans of middle-grade contemporary
Will I read more from this author(or series)?
Maybe.