Song Of The Moment- Long Live by Taylor Swift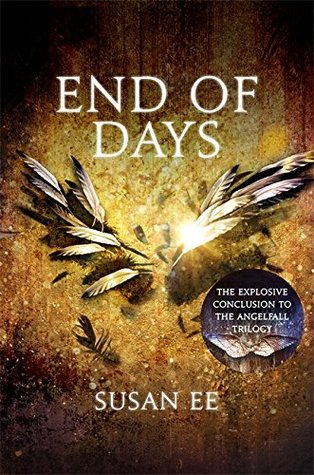 The End Of Days
by Susan Ee
Release date: May 12, 2015
Format: Ebook
Genre: YA, Dystopian/Fantasy
Goodreads Link
End of Days is the explosive conclusion to Susan Ee's bestselling Penryn & the End of Days trilogy.
After a daring escape from the angels, Penryn and Raffe are on the run. They're both desperate to find a doctor who can reverse the twisted changes inflicted by the angels on Raffe and Penryn's sister. As they set off in search of answers, a startling revelation about Raffe's past unleashes dark forces that threaten them all.
When the angels release an apocalyptic nightmare onto humans, both sides are set on a path toward war. As unlikely alliances form and strategies shift, who will emerge victorious? Forced to pick sides in the fight for control of the earthly realm, Raffe and Penryn must choose: Their own kind, or each other?
My Rating:
Review:
It seems that as much as I really did like the first book in this series, these books are just not for me. I'm going to keep this short and sweet and kind of vague cause I don't want to accidentally spoil anything for anyone.
Now, if you're like me and are coming in late to this very hyped up series here's what it's about: the angel's apocalypse. Angels swooped down from the skies and are destroying all humans and the world at large. Penryn wants nothing more than to protect her younger sister and mom, but then her sister gets taken by the angels who are stealing human children and Penryn falls in with the archangel Raffe. Stuff happens from there. Lots and lots of stuff, there's a resistance and crazy monsters manufactured by angels and lots of stuff.
So book three picks up right where two ended and...well at least it doesn't fall into the trap that a lot of last books have recently, it wasn't twice as long as every book before it.
This was me throughout the book: I was disappointed, then loving it, then disappointed again.
The book starts off slow and I felt like nothing really happened in the first 60%. Even when things did happen they didn't have as much impact as they should've. But as always with Susan Ee the end picked up and made up for all of it and then the last two chapters just...fell short. I feel like the main problem I have with this series is how fast paced it is, I love that because it makes it easy to read and keeps everything moving along nicely with your heart in your throat for the last 50% of every book. But...there's no world building...at all. Everything just happens in fast forward and you're just supposed to accept it with having answers as to why? There's some kind of weird time traveling having to do with Pookey Bear and Beilel but is that ever explained??? Nope. And why did the Angels come in the first place? Was it Gabriel or all Uriel? And just...what? It's a fun fast paced well told story, with no backbone to support it.
Would I Recommend This?
Um, I wouldn't NOT recommend it.
Who To?
People....
Will I read more from this author(or series)?
Maybe.