Song Of The Moment- Long Live by Taylor Swift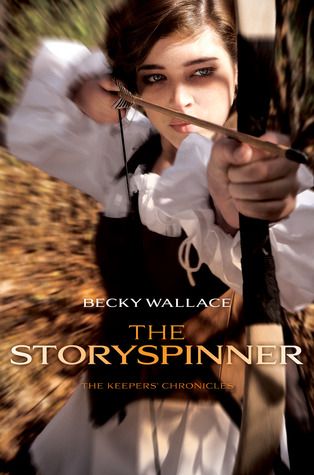 The Storyspinner
by Becky Wallace
Release date: March 3, 2015
Format: Hardcover
Genre: YA Fantasy
Goodreads Link
Drama and danger abound in this fantasy realm where dukes play a game for the throne, magical warriors race to find the missing heir, and romance blossoms where it is least expected.
In a world where dukes plot their way to the throne, a Performer's life can get tricky. And in Johanna Von Arlo's case, it can be fatal. Expelled from her troupe after her father's death, Johanna is forced to work for the handsome Lord Rafael DeSilva. Too bad they don't get along. But while Johanna's father's death was deemed an accident, the Keepers aren't so sure.
The Keepers, a race of people with magical abilities, are on a quest to find the princess—the same princess who is supposed to be dead and whose throne the dukes are fighting over. But they aren't the only ones looking for her. And in the wake of their search, murdered girls keep turning up—girls who look exactly like the princess, and exactly like Johanna.
With dukes, Keepers, and a killer all after the princess, Johanna finds herself caught up in political machinations for the throne, threats on her life, and an unexpected romance that could change everything.
My Rating:

Review:
This book was just so so good. Going into it I'd heard a lot of good things about it, even though like first time I saw it? I was unimpressed. Sure the cover is pretty but it just didn't scream at me to read it, you know? But I was wrong. Luckily, I saw that
Petra
loved it and I tend to trust her opinions on fantasy and... She's was so right.
This book follows Johanna, who is a performer in this magical world. All Johanna really wants to do is be a performer, born into a family of them and living her whole life in a performers camp it's all she knows and loves. Then her father dies, and her family is essentially kicked out of the camp. This world is basically on the brink of war, there are the Keepers who live on the other side of the wall and are basically a legend among Johanna's people. Then there's the Duke's, one of which is very power hungry, and basically, trouble is brewing and Johanna seems to be in the middle of it. Starting with girls who look like her being mysteriously killed.
A Few Of My Favorite Things:
- The best thing about this book was the characters. I was a little worried when I heard that there were so many different points of view, with chapters from at least five characters, but all of them were so well written and all the characters so real and unique that not once did all the POVs feel unneeded or like it was too much. Usually I find myself less interested in certain characters when there are so many POVs but I loved them all and was equally looking forward to each of them.
- There was some definite swooning involved in my reading of this, there's so many great characters and I loved them all and I shipped Johanna and Rafi but more than that I loved Pira and Leao. There's romance but it's very understated and just enough to have you rooting for the characters with out over powering the rest of the story. Also, no insta love so that's a bonus!
- This book was just so unique and amazing, with so many amazing and well written characters. I loved that Johanna was a performer and she could take care herself without just randomly being a good fighter, she'd learned it all from her years as a performer. She would do anything to protect her family and is kind of just badass. And Pira(a keeper from the other side of the wall) was probably my favorite just because she is the epitome of badass and just...awesome. I also loved the other characters too.

A Few Of My Not So Favorite Things:


- The only slight downside I found with this book, the one little thing that wasn't quite as awesome as the rest, was the world building. It didn't suck or anything but, especially in the beginning, it was just kind of confusing. It took me a little while to work out how this world was set up with the Keepers on one side of the wall and everyone else on the other and the whole different Dukedoms and the dead King and just how that was all set up. I think it probably could have been explained a little better in the beginning. Again, it wasn't horrible, didn't ruin any of my enjoyment of the book, just slightly confusing.

Overall: It's been almost a month since I read this(evidenced by my horrible version of a synopsis) but I can still say that I highly recommend this book, it's one of the best fantasy books I've read in a while.
Would I Recommend This?
Yes.
To Whom?
Any fan of YA Fantasy with epic character building.
Will I read more from this author(or series)?
Yes. I'm dying for more!