Song Of The Moment- Don't Wanna Think About You by Simple Plan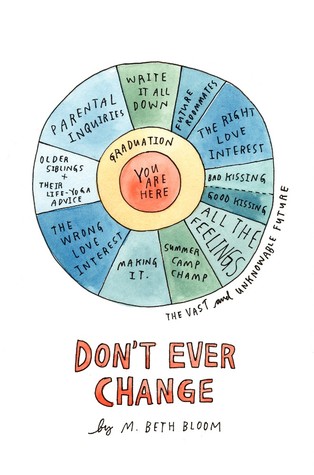 Don't Ever Change
by M. Beth Bloom
Release date: July 7th 2015
How I got it - Review copy from Edelweiss
Genre: YA Contemporary
Goodreads Link
Sometimes the only way to learn about yourself is to try to change everything about you.

Eva has always wanted to write a modern classic—one that actually appeals to her generation. The only problem is that she's starting to realize she can't "write what she knows" because she hasn't really lived. So the summer before heading off to college, Eva is determined to live a life worth writing about.

But soon Eva's story starts to go in unexpected directions, like growing apart from her best friends, working at a job she is completely unqualified for, and even falling for the last person she would have ever imagined. Like anyone, though, it will be up to Eva to figure out how she wants this particular chapter in her story to end.

Perfect for fans of E. Lockhart, David Levithan, and Rainbow Rowell, Don't Ever Change is a witty, snarky, and thought-provoking coming-of-age novel about a teen who sets out to write better fiction and, ultimately, discovers the truth about herself.
I received this book from the publisher through Edelweiss to review honestly
My Rating:
1 Star: It fell flat and I disliked it.

Review:
I had high hopes for this one, I admit. Not only is it pitched a perfect for fans of Rainbow Rowell and David Levithan, it kind of sounded like Eva was my kindred spirit. I expected a funny coming of age story where Eva learns she doesn't have to change to write, and to discover herself. What I got was a pretty badly written book about a character I quickly grew to dislike, with little to no plot, and horrible pacing.
I hate writing bad reviews, and I hate picking apart an entire book but I honestly can't think of one thing I liked about this book, it was a quick easy read and that's about the only good thing I can say of it.
I didn't like Eva, she's selfish and mean and judgemental and I can't stand an unlikable character. Within the first 25% of this book I was considering DNF-ing it because I hated Eva, but I thought, there's still plenty of time for the plot to pull itself together and prove to be way better than an unlikable character. I wasn't right.
Coming of age novels all have one thing in common, the main character learns something by the end of the book, they learn to be themselves and that's enough, they learn what they want from life and they always come out better people, they at least grow and change in some way. Not Eva. She learns nothing. She's the same selfish and mean person in the end, she doesn't learn anything about writing(I feel) and she doesn't learn how to be a better person or to just be herself. Basically, from what I could tell, nothing at all changes from the beginning of this book till the end. Nothing.
Eva is very very judgemental and thinks she's the best writer that ever was. Then her teacher tells her to write what she knows and she realizes(while still thinking she's the best) that she "knows" nothing and so she must have an epic summer of learning and writing epic things before college. She doesn't do anything though, she gets a job as a camp counselor and mopes around about "knowing nothing". I guess I'm slightly biased though, because "write what you know" is basically what this whole book is based on and it's something I hate.
Moving on, there's really no plot. There's no real romance. No character growth. I finished this book feeling like nothing had happened. There were some really disturbing moments, I won't go into detail and honestly these are things a lot of people may not notice or find disturbing the way I did, but they unsettled me and just seemed....wrong. None of the secondary characters were very good or there all that much and I never felt like Eva felt anything for these other characters. The writing wasn't horrible, it wasn't great, but nothing much to remark on either, the pacing though was bad. It would seem like at least a couple weeks had passed, but nope, a few days, then the opposite. Just the whole pacing was way off.
Overall: This was a big miss and a mess to me. I feel like I'm being a little harsh, but I just didn't like anything about this book, even just a little bit better romance I think could have helped, but this one kind of missed on all points in my mind.
Update: I read this book months ago and wrote this right after, I still feel the same way mostly because I can honestly barely remember what even happened in this one.
Would I Recommend This? Nope.
Who To? Redundant.
Will I read more from this author(or series)? Eh...maybe?
Oh and giveaway! I have a giveaway going to celebrate NaNoWriMo, enter below!
a Rafflecopter giveaway