Song Of The Moment- Speaking In Tongues by Young Guns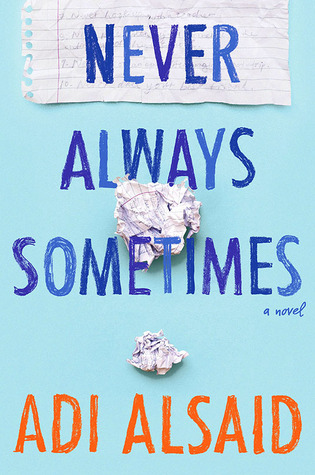 Never Always Sometimes
by Adi Alsaid
Expected Release date: August 4, 2015
Format: ARC
Genre: YA Contemporary
Goodreads Link
Never date your best friend
Always be original
Sometimes rules are meant to be broken
Best friends Dave and Julia were determined to never be cliché high school kids—the ones who sit at the same lunch table every day, dissecting the drama from homeroom and plotting their campaigns for prom king and queen. They even wrote their own Never List of everything they vowed they'd never, ever do in high school.
Some of the rules have been easy to follow, like #5, never die your hair a color of the rainbow, or #7, never hook up with a teacher. But Dave has a secret: he's broken rule #8, never pine silently after someone for the entirety of high school. It's either that or break rule #10, never date your best friend. Dave has loved Julia for as long as he can remember.
Julia is beautiful, wild and impetuous. So when she suggests they do every Never on the list, Dave is happy to play along. He even dyes his hair an unfortunate shade of green. It starts as a joke, but then a funny thing happens: Dave and Julia discover that by skipping the clichés, they've actually been missing out on high school. And maybe even on love.
I received this book from the author to review honestly
My Rating:

Review:
Never Always Sometimes is a book about two people who've been best friends forever. Dave has loved Julia for as long as he's known her it seems, Julia loves Dave too...as a friend. Then there's the list, the Nevers, which they made before starting high school, of all the cliches they wouldn't do in high school. Now they're months away from graduating and bored so they dig out the old list and start crossing things off. First up? Going to a legendary Kapoor party where Dave meets Gretchen.
This book
made me feel the feels
. It made me fall in love with Dave and Julia together and apart. It made me ship them. It made me fall in love with Gretchen and ship her with Dave even while I was hoping for Dave and Julia to work out. And even though it's more or less a fluffy contemporary it broke my heart a little bit.
Julia is one of my all-time favorite characters, she's awesome, and badass, and not really afraid to be who she is, and she hates shoes and I hate shoes...I think we should be best friends. And I hated Gretchen the moment she was introduced because I knew she'd get in the way of Dave and Julia, yet I couldn't not fall for her character too. All the characters were exceptional and very well written. I loved the book and the only thing I didn't love is the last third...

I didn't hate the ending, but things started happening really fast and I had mixed emotions about it. The book was still amazing, but I wasn't happy with all the flip flopping and, most of all, Dave towards the end. I kind of just felt like Dave was, I don't know, changing very suddenly and acting in ways that I didn't feel totally meshed with everything we knew about him., and just in general I didn't like the way he was acting. I will give the author props for taking things a different way and making the characters so REAL though.
I saw a few early review mentioning the inappropriate things Dave and Julia do, but I don't see it that way. Yes, Julia tries to seduce a teacher, but it's mostly a joke that I think most readers will see just as that. Nothing else seemed that inappropriate to me. Some things Dave did towards the end weren't the best but, hey everyone makes mistakes!


Overall: This book is fun and at first glance may appear to be a simple light and fluffy read, but it's more than that. The emotions and characters in Never Always Sometimes are extremely incredibly REAL(and slightly heartbreaking). Feels abounded in this book partly because of the great characters and partly because of the great writing. I thought I had it all figured out half way through but then there were twists, twists that made me FEEL(mostly angry at the author for making me ship so many different people and then kept sinking them). Basically, I loved this, you should read this, even if you, like I, might hate the ending.
Would I Recommend This?
YES!
To whom?
Everyone? And fans of Eleanor and Park by Rainbow Rowell
Will I read more from this author?
YES!
So... What's a cliche you didn't do in high school but wish you had?
Personally, I was homeschooled so I did NO cliches, however in my town it's very cliche to go bowling after prom, while still all dressed up, and I totally would've done that.