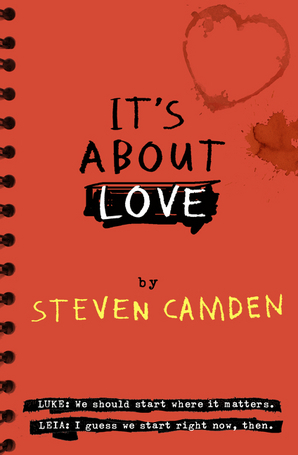 It's About Love
by Steven Camden
Release date:
Format: ARC
Genre: YA Contemporary
Goodreads Link
Real life is messier than the movies. A bold, thought-provoking novel from the exceptionally talented, Steven Camden.
He's Luke. She's Leia.
Just like in Star Wars. Just like they're made for each other. Same film studies course, different backgrounds, different ends of town.
Only this isn't a film. This is real life. This is where monsters from the past come back to take revenge. This is where you are sometimes the monster.
But real life? Sometimes, only sometimes, it turns out just like in the movies…
… maybe.
I received this book from the publisher through Edelweiss to review honestly
My Rating:

Review:
First, I have a gripe with this book, it doesn't really matter overall, but it annoyed me. Here it is: WHY LUKE AND LEIA???? Why!? They're brother and sister in Star Wars, dang it! Yes, there's that confusing scene where they kiss, but they're brother and sister! Let me be clear, the characters in this book do point that out, it's not as if the author completely ignored it, but it still annoys me. Mostly because this isn't the first time I've seen it and it's just a pet peeve.
On to the real review!
It's About Love follows Luke, a seventeen-year-old film student who wants nothing more than be a scriptwriter and make his own movie. Luke has a..completcated past involving a brother, Marc, in prison and a scar across his face.
Let's break it down, shall we?
The Writing:
Okay, I am in love with the writing in this book! It's amazing and unique and all the other words. Bits are written like an actual screenplay, which I loved. And so many quotable parts. *sigh*
The Plot:
There was a lot going on in this book. I loved all the side plots, with Luke's parents who are separated, Leia's brother who has a history not unlike Luke's, Luke's brother who's about to get out of prison. They were all done so well.
Then you have the main plot, you have Luke and Leia's romance, Luke's history, the screenplay they're writing together, and their awesome film teacher. Basically, this isn't your normal love story, there's so many little things going on, some much painful history and it's so well written! This book is about love - many different forms of it - but it's also about everything else.
The Characters:
This is where things took a turn for the worst for me. I didn't find myself drawn to really any of the main characters. So, Luke and Leia, I didn't like either, though I preferred Luke to Leia. There was just so much drama with them. Luke kind of flipped flopped and wasn't very likable, pushing away his friends and family. Leia was dramatic, and not in the book nearly enough.
The side characters, though! I loved them. I connected with them, I felt for them. Not for Luke and Leia. I loved Marc(Luke's brother) most of all, but also Luke's best friends and I wanted more of all of them. Less Luke and Leia.
The Ending:
The thing is, the "message", It's About Love and all that, kind of fell flat. The whole end did. The romance just wasn't...romance-y enough. I didn't really like Leia, she was too "the perfect girl" and kind of moody, if you ask me. I never really understood what they saw in each other which ruins romance for me and by default, the whole "It's About Love" point of the story.
There were twists though! What with Luke's brother, who just got out of prison for something that involved Luke(no spoilers here!), and the backstory wasn't something you see a lot, which I loved. I loved the side characters, I loved the family dynamics, and how that all ended. It was perfect. The romance is what really made the book drop in my opinion.
The Romance:
SO MUCH DRAMA. Luke doesn't want to like Leia at first, then they kind of do, then things happen and she won't talk to him. Which, I understood, a smidge, but really? It felt like she was overacting. And the end fell short because of it. I mean, why was Luke even trying so hard to get her back, she wasn't that great!
Overall:
This was a good read, I fell for the writing and side characters. Unfortunately, I didn't fall for the main characters which impeded my enjoyment of this one.
Would I Recommend This?
Sure.
To Whom?
People who love a good story but don't need compelling romance and characters in contemporary.
Will I read more from this author(or series)?
Probably.